Christina Aguilera Celebrates Son's Fourth Birthday At Legoland (Photos)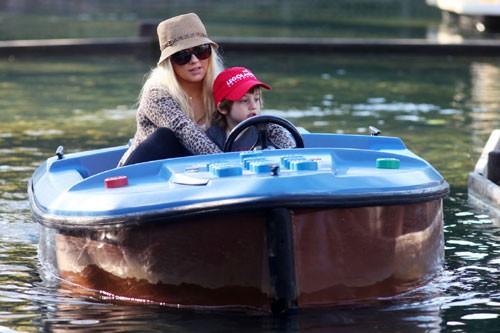 Christina Aguilera hit California's Legoland on Thursday for a birthday date with her four-year-old son Max.

Mother and son were joined by her boyfriend Matt Rutler and a small entourage at the theme park, where they spent a reported five hours checking out the attractions.
The party started in Fun Town where they rode Fun Town Police and Fire Academy and competed with their friends by pumping a lever up and down to move their fire truck across the way, aiming a fire hose at a "burning" building then piling back in the truck to finish.
Next stop was Adventurers' Club, then Flight Squadron, then off to Skipper School where Aguilera and Max drove their own LEGO themed boat through a fun course. The party concluded at Fun Town Market where Max opened his presents and enjoyed a Legoland birthday cake.
Heading home after the day out, the pop star tweeted, "Spent today at Legoland with the love of my life. Happy bday Max!"