Christie Brinkley's Father Inspired Her To Sign Up For Broadway Production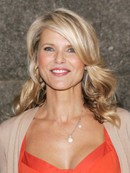 Supermodel Christie Brinkley's father convinced the ageless beauty she could wow Broadway critics as Roxie Hart in Chicago.

The former wife of Billy Joel will hit the stage as the murderer in April and she admits she was initially reluctant to sign on for the role - until her dad convinced her to go for it.

She says, "My dad has always guided me throughout my career. Generally, whenever I wonder if I can do something, he says, 'Why not?'

"My dad is very ill and he has a hard time talking and I was saying to him, 'Dad, you know I'm gonna have to dance and learning all these steps (sic) and singing and rehearsing, and I'm not going to be able to be here as much for you and mum, so I need to know that you're OK with that.'

"He started trying to write something down and I look on the paper and he'd wrote, 'Take it!' So I really wanna do this for my dad."

During an appearance on The Oprah Winfrey Show on Friday, Brinkley revealed she plans to get her father's note framed and hang it in her dressing room to inspire her Chicago performance every night.