Christie Brinkley Turns 60, Still Looks Amazing In A Swimsuit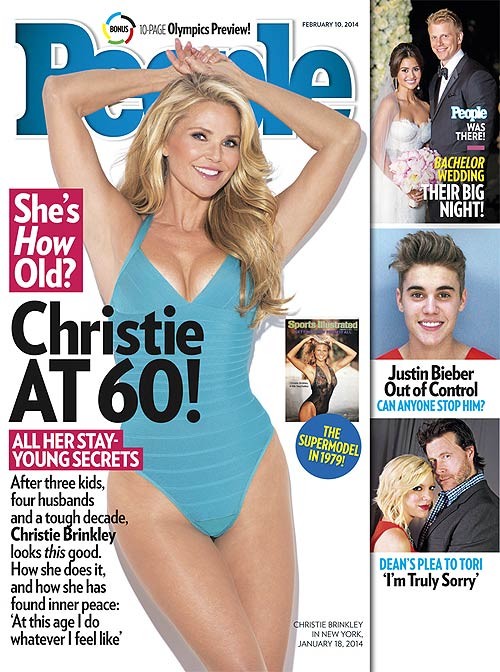 After three kids, four husbands, and a tough decade, how does supermodel Christie Brinkley, who is celebrating a milestone birthday on Feb. 2, keep getting better with age? The Uptown Girl reveals how she does it, how she has found inner peace, and the keys to her timeless beauty in this week's issue of PEOPLE.

"I'm actually excited about turning 60," Brinkley tells PEOPLE. "I feel such a surge of energy." She's happy to close the book on the last decade. "My 50s weren't easy," she says. "I lost both my parents and went through a miserable divorce [from architect Peter Cook] while trying to be a pillar for my kids. But I made it through. Now I feel on top of my game."

Brinkley, who gets back in familiar territory in Sports Illustrated's 50th anniversary swimsuit issue, could easily pass for someone half her age.

"At 60, I'm going to do whatever I feel like," she says. "If I feel like it, I'll still wear miniskirts, as long as I don't bring shame to my children!" She adds: "Women are not to be brushed under the carpet because they're a certain age," she says. "When I started out, I remember very clearly a group of successful models saying, 'You will be burned up and thrown away by the time you're 30.'"

She credits her looks to a lifelong passion for healthy living. She stopped eating meat at 13 and follows a mostly vegan diet thanks to 15-year-old daughter Sailor Brinkley-Cook.

"I love hanging out in health food stores. Some people are gourmands who love a fish smothered in cream. That doesn't appeal to me. I treat every day like I'm eating to fuel my body." Her fitness routine allows the 5'9" model to fit into size 27 jeans, but she insists she can yo-yo like everybody else.

"I will gain weight. My closet is proof," she says. "I have jeans in sizes from 24, when I danced on Broadway in Chicago, to size 28. Sometimes I eat a lot of pasta." But if she's added a few too many pounds, "then I just get on the stick and exercise more. The more active I am, the better I feel."
Most important, she says, her active lifestyle helps her keep up with her three children – singer-songwriter Alexa Ray Joel, 28 (from her marriage to Billy Joel), college freshman Jack Brinkley-Cook, 18 (from her marriage to Peter Cook), and Sailor, who wants to follow in her mom's footsteps. So far Brinkley is on board with her decision. "I've told her that if I see any sign of [her] being too swept up with this, I will not be supportive," says Brinkley. "And she knows school comes first. She's got to keep her grades up. But she gets it. She's really smart."
Just last week Sailor announced that she'd like to attend boarding school in Europe next year. "I said, 'I'm not so sure that's the right move for you,' then I burst into tears and said, 'I meant it's not the right move for me, but I will support you,'" says Brinkley. "Suddenly I had a real clear vision of that empty-nest thing. It hit me like a ton of bricks."
If Sailor does take off, her mom might implement Plan B. "I could go back to New York City and have a real full life there," says Brinkley, who hasn't dated seriously since her 2006 split from Cook.
"Living in the country [Bridgehampton, NY) is a little quiet for a single girl like me." She adds: "I don't feel a gaping hole because I don't have a man in my life, but of course I'd like to date if the right person came along." Her criteria? "He would have to be really funny, kind and smart," she says. Being age-appropriate is also key. "I'm not interested in going out with a 38-year-old," she adds, explaining that it's usually men that age who hit on her. "My theory is they have nothing to prove, while men my age...well, probably a lot of the good ones are taken. But others think they need a young girl to show they're still virile."
More on Christie Brinkley is featured in the new issue of PEOPLE, on newsstands everywhere now.
*Also In This Week's 'People'*
Justin Bieber: "He's Had A Hard Time Letting Go Of [Selena Gomez]"
Tori Spelling'S Secret Torment: Her Husband's Public Betrayal – "She Will Never Trust Him Again"
'People' Was There For Sean & Catherine's Magical Night
Allison Williams On Julie Andrews: "Every Time I See Her, My Heart Skips A Beat"