Christian Bale Visits Survivors Of Colorado Shooting, Memorial Site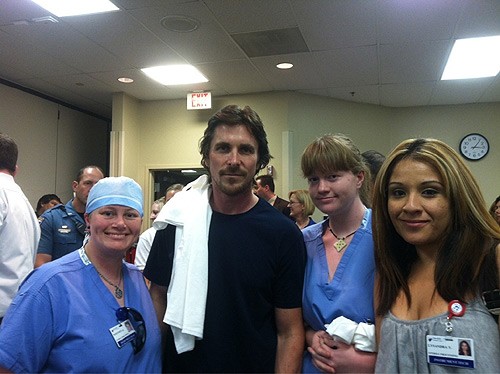 Christian Bale spent two and a half hours Tuesday meeting with survivors of the Aurora, Colorado, movie theater mass shooting that occurred during a midnight showing of his latest film, The Dark Knight Rises.

The star, accompanied by wife Sibi Blazic, had informed the hospital he was coming and asked that the media not be notified.

"He just wanted to meet with victims and police," said Bill Voloch, the hospital's interim president.

Bale spent about 10 minutes each with with seven of the 58 survivors of the shooting, along with many of the police, emergency medical technicians and hospital staff that were first responders after Friday's tragic turn of events.

A spokesperson for Warner Brothers told the Denver Post that Bale was not there on behalf of the film studio, but "there as himself."

"The patients were really happy to meet Bale," said Voloch. "They are obviously big fans of his movies. They wanted to see Batman and were really pleased to see Bale.

"It was good for the patients. We hope it was therapeutic for them, and all the staff really appreciated him coming."

Bale and his wife also visited a memorial to the 12 people killed in the shooting and joined in a prayer, part of which was captured on film (video below) by Colorado's KWGN.com .

"A couple next to me asked me to pray with them. There were about six or seven of us. And then prayer was over, and I was taking some pictures and realized who I was pretty much standing next to was Christian Bale," area resident Amanda Tyacke tells KWGN.

"Words cannot express the horror that I feel," the star said in a statement after the shooting. "I cannot begin to truly understand the pain and grief of the victims and their loved ones, but my heart goes out to them."

Following the shooting an online campaign was started, urging Bale to make the trip to Colorado to meet the victims of the horrendous crime.