Christian Bale Gets Biblical In First Trailer For 'Exodus: Gods And Kings'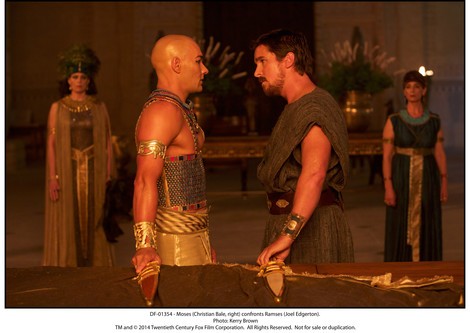 Christian Bale and Ridley Scott are teaming up for Exodus: Gods and Kings, which just got a first trailer that proves it aims to beat out Noah as the best Biblical epic this year.
In typical Ridley Scott fashion, the period piece will feature giant battles and sweeping sets, as seen in the first seconds of a trailer when two armies charge and a cloaked figure looks over a populated ravine at night. Joel Edgerton's Ramses snarls to Bale's Moses, "You say you didn't cause all this, you say this is not all your fault – so let's just see who is more effective at killing: you or me."
Exodus will follow the classic tale, in which the Levite Moses is raised in the royal Egyptian family enslaving his people. As tensions build between the two, God begins to smite the people of Egypt, making Ramses question Moses' role in it all.
In the trailer, Moses tries to warn Ramses, "I came here to tell you something is coming that is out of my control." Shots of the plagues follow, such as the storm of fire and hail and the transformation of water into blood.
Expect to hear more about the film as it gets closer to its December release, especially the casting choices. There has been a movement against "whitewashing" the characters in biblical films, and there have already been rumblings about casting the likes of Bale, Edgerton, Aaron Paul, and Sigourney Weaver as Egyptian characters.
Still, Exodus will be wowing moviegoers with its crazy effects and giant battle scenes when it hits theaters December 12.