Chris Wyse Finds 'The Right Thing' With Owl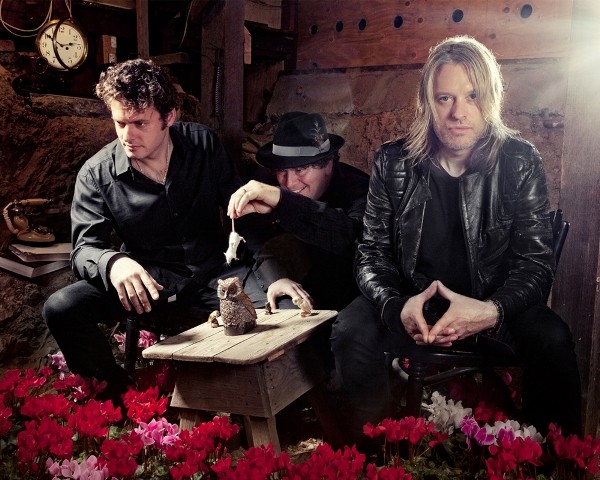 "I think I just knew when I was a kid that this was what I'm going to do," explained Chris Wyse, the frontman for Los Angeles-based rock band Owl, who are currently preparing their second studio album The Right Thing for an April release. "I was really obsessed with playing bass."
He's also proven himself to be very, very good at it. After being inspired by "a lot of Iron Maiden songs" and starting out with bands in New York, Wyse made the move to Los Angeles and found himself fitting in amongst some pretty big names in rock music. "When I came to LA, that was when I really started joining other bands, which was surprising to me," he said. "Suddenly a whole aspect of my career started coming up." He played with the likes of Tal Bachman, Scott Weiland, Mick Jagger and Ozzy Osbourne. Most notably, Wyse is the current bassist for The Cult, a role he first took on in 2000 and has held steadily since 2006.
It's a resume that countless musicians would be envious of, and Wyse is proud of it. But he's also proud of his own band, Owl, which dropped their self-titled debut record in 2009. Wyse (pictured far right with his bandmates) provides vocals and bass, with Dan Dinsmore on drums and Jason Achilles Mezilis on guitar and additional vocals. "It's more of an organic real band," said Wyse, describing the group's sound. "We're not programming. The sound and the style of the band [is] hopefully branching out to new places."
"Owl has our own style," he continued. "We do lots of different things. We might have a very pretty ballad with piano and we might have songs where I'm screaming like a banshee, but somehow we connect all the dots."
He believes that the band has continued to better themselves with their sophomore effort. "This record being our second record, we just grew a lot together," he said. "We gelled playing live and in the studio. This album, not as much of it was written ahead of time. I had the first record pretty much written. This one, we developed sort of more as a group and we had some more time to jam. There's a lot more spontaneous things that happened. We did a lot of stuff in the moment. I like working like that. You can get stuck - you can be in the studio for years with no progress."
As you'd expect when discussing an act that's more versatile than the average rock band, Wyse appreciates several tracks on The Right Thing, all for different reasons. "There's so much there in that record. I'm really enjoying the title track. The cover song 'Destroyer' came out great. That was a pleasant surprise," he continued, naming the Kinks cut that appears on the album. "I think 'Perfect' is really pretty. I like Dan's drumming on the fills on 'Don't Know What You Got' - just amazing stuff Dan came up with. The standout on this record is, I think, 'Eleven.' There's a lot of magical moments on the record that just sort of happened."
While Owl is working on a string of tour dates in connection with the album's eventual release, Wyse also continues with his commitment to The Cult. Given his resume, there's no doubt he's made his name in the industry. But what's going to make him personally consider his career a success? "I always just base it on the work itself," he said. "I've been blessed to play with so many cool people. Ozzy was a big deal for me because I was always into [Black] Sabbath. Obviously being in The Cult has been a big part of my life. When you make good music and you know it, I think that's success for me. It's not so much about the fanfare for me. I just like when the band's happy, and then everything comes from there."
No matter what the commercial fate of the forthcoming album, it's obvious that Wyse has found the right thing for himself. "I did an experimental, slightly off-center rock record," he reflected, "[and] we're happy people are digging it."
The Right Thing is due for release on April 9. For more on Owl, you can visit the band's official website and follow them on Twitter (@owltheband).
(c)2013 Brittany Frederick. Appears at Starpulse with permission. All rights reserved. No reproduction permitted. Visit my official website and follow me on Twitter at @tvbrittanyf.