Chris Rock 'Offended' By Tracy Morgan's Comments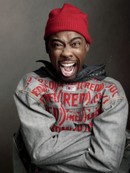 Chris Rock has taken aim at Tracy Morgan for his controversial gay jokes after initially defending the troubled TV funnyman.

The 30 Rock star hit headlines last week after making a series of offensive comments about homosexuality at a stand-up show in Nashville, Tennessee.
Rock initially defended Morgan, telling fans in a post on Twitter.com, "I don't know about you, but I don't want to live in (a) world where Tracy Morgan can't say foul inappropriate s**t."

However, the comedian has now backtracked after reading Morgan's remarks and his subsequent apology, and he made his feelings clear in another post on Twitter.com.

Rock writes, "Tracy Morgan is a tad off, we all know that, so when Tracy says something I usually don't take it any more serious than I would a statement from Gary Busey or Flavor Flav.

"When I first heard the statement (of what Morgan said) I thought it was offensive but it also reminded me of my father saying, 'I'll kill you if you ever bring home a white girl' but after reading everything Tracy said, wow I get it that s**t wasn't called for and I don't support it at all."