Chris Richardson On The Right Track After 'American Idol'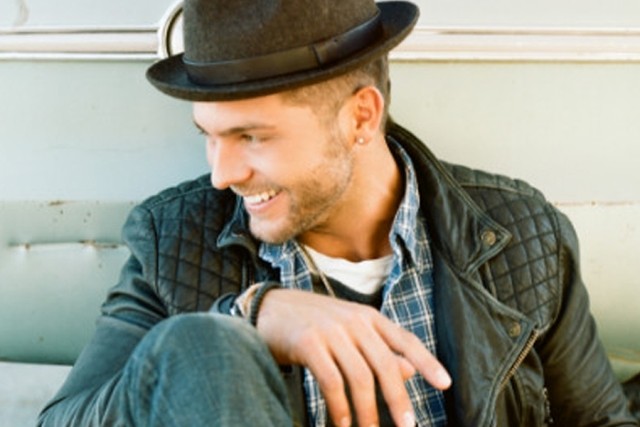 Chris Richardson may have come to national attention thanks to American Idol, but there's a lot more to the singer-songwriter than just a fifth-place finish on a reality TV show. He recently sat down with BFTV to share the complete picture of who he is and talk about establishing a music career after being in the television spotlight.
"I feel like I've gotten past that show, and [I'm] being introduced as Chris Richardson, and not so much as Chris Richardson from American Idol," reflected the Virginia native, who released the single "Joy and Pain" in August of 2012. Asked if he was concerned about being saddled with a 'reality show singer' label, he said, "I think I'll always have that, but it's just a reminder of a cool experience I went through."
"I learned a lot from the inside of the business while I was on the show," he continued. "I took that and I ran with it. I just kept going until I finally eventually found a home. I've been signed with [Cash Money Records] for a year and a half now, [and] they really are just behind my music and my craft and how I build it. You don't really get that freedom with a lot of labels."
Since joining his new label, Chris released "Joy and Pain," which features Tyga, and a corresponding music video arrived at the end of August, which you can watch at the end of this interview. He also appeared on Tyga's single "Far Away." These are very much first steps, as he explained, "We're really focused on getting [an] album out this year and of course, starting a tour. I'm finally getting a chance to get my music out there on a level where I can at least reach people, and I think that's the whole objective with it."
And when Chris refers to 'his music,' it's not just his vocal abilities. He's a multi-talented individual, who plays guitar, drums and the piano. "I write my music or co-write my music," he said. "I'm a musician, so I play instruments and instruments are infused within the record. We're using processed beats and some cool sounding synths.
"People will ask me all the time, 'How do you describe your sound?' and I explain my sound different every single time, it seems like," he commented. "My sound is really going to come through whenever you hear my songwriting, because that's me. I went through so many things and I feel like where I am right now is the stuff I want to get out to my fans."
It's been five years since TV audiences watched Chris during the sixth season of American Idol, and we asked him if he felt the show captured him well. "They didn't twist our season up too much," he told us, "but they also didn't allow the cameras and the reality behind your life either. That show didn't really let people into our lives that year. That year they were just trying to turn things around and do different things."
While the viewing public might not have gotten to know Chris the person well through the FOX series, they definitely got to hear Chris the performer, for which he's still grateful. "We literally went from being on the television show to being on a mega-tour," he continued, referring to the American Idols Live! concert tour in the summer of 2007. "I'm sitting there back in Virginia playing in front of 150 people, trying to get to this point, and it came so fast that it was so overwhelming. I've been humbled to have so many different experiences throughout this journey to even get to this point."
Yet for this down-to-earth performer, happiness doesn't require people remembering him from TV, or that TV experience boosting his career (he left Idol without a record deal). All he's looking for is to continue to be a working musician, doing what he's loved to do as far back as he can remember. "To me it hasn't been about the fame," he said. "I definitely just wanted my music to be appreciated and listened to and embraced and I wanted to inspire people."
You can keep up with Chris on Twitter (@ImChrisRich). You can also visit his official website.
(c)2013 Brittany Frederick. Appears at Starpulse with permission. All rights reserved. No reproduction permitted. Visit my official website and follow me on Twitter at @tvbrittanyf.