Chris Noth To Star In 'Titanic: Blood And Steel'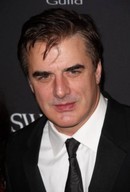 Sex And The City star Chris Noth has signed on to star in a new Titanic TV mini-series about the construction of the 'unsinkable' ship.

Noth will play banker John Pierpont Morgan in the 12-part drama, Titanic: Blood and Steel, with Scream star Neve Campbell portraying a New York reporter and Gossip Girl actor Kevin Zegers serving as an engineer.

The group recently jetted to Dublin, Ireland to shoot the show and Noth already believes the drama will be a big hit.

He tells the Irish Times, "Most dramas have all been about the sinking. We are about the birth of it, the promise before it. The expectation was so intense, of what it was and what it could be."

Titanic: Blood and Steel will debut on what will be the 100th anniversary of the ship disaster next April.

The series is one of many projects planned for the 2012 anniversary - Gosford Park writer Julian Fellowes is creating a six-part drama about the heart-wrenching final hours aboard the Titanic, which sank after hitting an iceberg on its maiden voyage across the Atlantic in 1912.