Chris Evans Underwent Therapy Before Taking 'Captain America' Role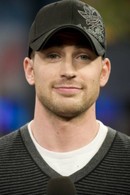 Actor Chris Evans turned to a therapist to help him manage his anxiety levels before shooting big budget blockbuster Captain America: The First Avenger.

Evans, who leads the cast in the Marvel Comics superhero film, admits he sought professional help to cope with his fears of public scrutiny and rising fame, which came as a result of his involvement in a high-profile franchise.

He tells The New York Times, "I wouldn't have done it (therapy), had I not agreed to do Captain America and gone into panic mode. The second I agreed to do it (the movie), I was like, 'All right, I'll do this, but I've got to start working on my head.'"

Evans has been struggling with anxiety for some time but the decision to work through his feelings with a therapist came to a head a few years ago during his press tour for Fantastic Four, when he became so nervous about meeting foreign reporters he pulled out of a European media junket.

He recalls, "No one's even speaking to me, and, in a matter of 60 seconds, I went from being fine to full meltdown, just stood up and walked offstage."

The therapy sessions appear to have helped and Evans insists he's doing much better: "It is really good just to talk about what you're struggling with. It's not like I had any massive breakthrough, but, for some reason, this feels more manageable... How do we all manage our anxiety? By not keeping it a secret."