Chris Cornell Slams Kanye West Over Festival Volume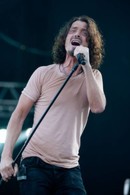 Kanye West infuriated Soundgarden frontman Chris Cornell at Australia's Big Day Out festival after the rapper's sound system disrupted the band's set when he started 45 minutes late.

The Stronger hit-maker was one of the headlining acts at the event on the Gold Coast on Sunday night, but a heavy downpour meant West couldn't begin his show until almost an hour after he was due to take to the stage.

The volume of his set infiltrated Soundgarden's performance on a nearby stage, prompting the group's fans to boo and Cornell himself to speak out over the noise.

He shouted, "Sounds like there's children playing music there, retarded children, retarded as in held back. There's no other word for it."

Cornell wasn't the only one upset by the hip-hop star's delayed gig - fans waiting to catch the star booed and chanted "bulls**t" as they waited for him to take the stage, according to Goldcoast.com.au.