Chris Brown Went To Rihanna's Halloween Party Dressed As A Terrorist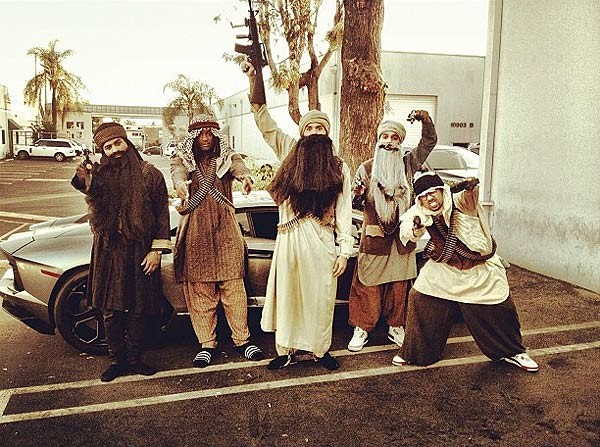 Chris Brown either knows exactly what he's doing or he's just plain stupid.

Considering his past issues like beating ex-girlfriend Rihanna, smashing a window at the ABC studio where Good Morning America is filmed, or getting a tattoo of what looks a lot like a woman with a black eye on the side of his neck it's really not that shocking that he chose to wear perhaps one of the most offensive (not to mention unoriginal) Halloween costumes ever this year -- a terrorist.

The singer posted an image of himself and some friends with machine guns and bandoliers, wearing turbans and Arab headdresses (and sneakers and shower shoes) to his Instagram page, "f*ckyopictures," before heading to a party Wednesday night.

Oh yeah, about that party -- well, it was hosted by none other than ex-girlfriend Rihanna, named this year's Queen of the 2012 West Hollywood Halloween Carnival held at the Greystone Manor Supperclub.

"Ain't nobody F*cking wit my clique!!!!" Brown captioned the image.

Naturally the photo has caused a lot of negative uproar considering the sing'er penchant for violence; but Breezy's mom Joyce Hawkins, aka @mombreezy, didn't have a problem with her son's costume.

"HALLOWEEN IS FOR FUN NOTHING MORE THAN JUST FUN. GET A LIFE PLEASE," she fired back at those criticizing her son's choice of outfit.

Brown's either looking for the attention, or he actually really is oblivious to his actions.