Chris Brown Tweets Defense After Hit-And-Run Charges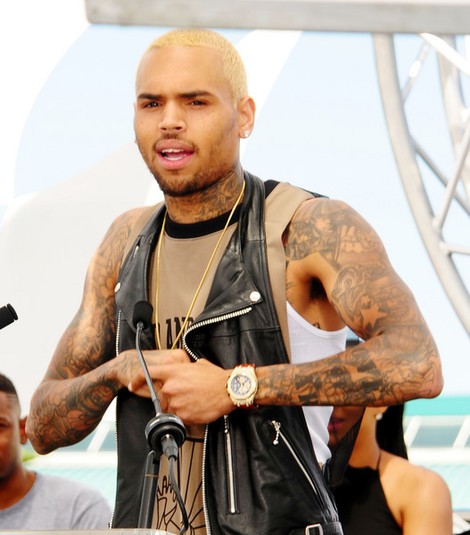 Chris Brown has tweeted an in-depth defense after he was charged with driving without a valid license and hit-and-run stemming from a fender-bender in May,
Brown reportedly tapped the back of another car while driving in his Range Rover in Los Angeles. According to the LA Times, prosecutors are claiming he could not produce a driver's license because he had no valid license at the time. They also claim he left the scene without providing proof of insurance for his vehicle. The charged could land Brown in prison, due to his probation following his domestic violence case involving Rihanna.
Brown has now blasted the charges on Twitter, offering photos of himself at the scene and pictures of the "damage" done to the car he hit. "It's not a hit and run if u get out the car, exchange information (who has NO DAMAGE to either cars).This is really ridiculous," he posted first.
"I have a valid drivers license and I gave the woman the right info. She saw cameras and wanted to make a scene. She contacted the cops thinking of a payday from Chris Brown when I followed the proper procedures."
He then took a shot at media outlets, posting, "My lawyers will be contacting you. I will not stand for this bullying and yellow journalism!"
Brown even changed his profile photo to a picture of himself at the scene, explaining, "My profile pic is the pic I took of the persons car after "the hit and run". NO damage. Just a dirty car.once again, I gotta clear my name."
Finally, Brown posted, "I work my ass off to provide for my entire family. I've made mistakes in the past and have worked hard to be a better person. 19-24 years of age. I don't have all the answers and you can't show me a person that age who has it figured out.We live and grow.Let me live."
It's been another bad week for Brown, who was also accused of assaulting a woman at a nightclub in Anaheim.