Chris Brown Shocks Girlfriend Karrueche Tran By Painting Graffiti On Her $90k Porsche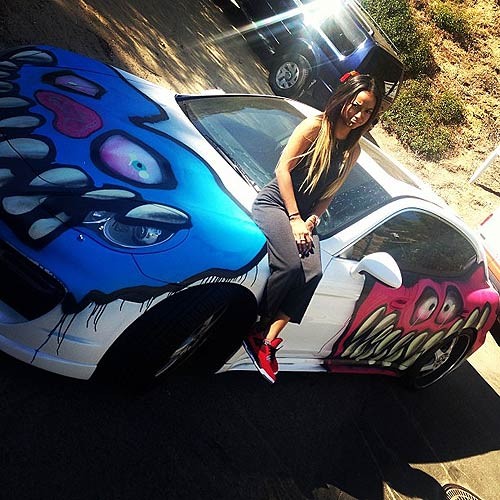 Karrueche Tran was in for a big shock when she arrived home from Las Vegas on Wednesday after boyfriend Chris Brown spray painted her $90,000 Porsche with graffiti.

"[T]his what the f**k I come home to lmao this n**ga man," she wrote on Instagram, captioning a photo of herself sitting on the hood of the car with a sad expression on her face.

Brown painted at least two monster faces in the same style as the ones he had painted on a retaining wall outside his home, but was forced by the city to remove after neighbors complained.

It appears he even painted over parts of the headlamps in the photo above.

Brown recently canceled a string of festival appearances in Canada over a recent health scare, in which he collapsed from a non-epileptic seizure while working at a recording studio, and Tran has reportedly been at his side supporting him and getting him through some recent tough times.

"This was his way of thanking her for always being by his side, having his back and helping him through his pain," a source close to the couple told website HollywoodLife.com. "He already pretty much gave Karrueche everything she ever asked for, and he thought a custom paint job would be different and one of a kind."

The source also said Brown wanted the aspiring model to be shocked at the paint job.