Chris Brown-Rihanna Drama, Kanye West Mullet, And Old People Rule This Year's Grammys

For the 2009 Grammy Awards, Starpulse.com contributing writer Simbarashe keeps a blog as everything happens live! Time for this year's Grammys. Since I'm doing this live I'll have no choice but to post only my initial gut-reactions as things happen, so hopefully this will be to your reading benefit. If someone is hot, I'll let you know. If someone is not, I'll let you know that too. I'm just wondering if anything I blog can or would be used against me.
8:00pm
- I'm excited! The Grammys have started!
8:00pm
-
U2
kick things off with their new single "Get On Your Boots". It's like ZooTV Lite! It's amazing that Bono's voice holds up after all these years of screaming and singing stadium anthems. The Edge looks well rested.
8:00pm
- That Bono sure knows how to strut...
8:02pm
- Is this the second or third straight time that they've appeared on the Grammy's by opening for it? I think that's a bad way to go. If I'm a top 3 band in the world I do not want the opening slot. People are still settling in, they haven't got their vocal chords warmed up to scream properly...the whole thing is just awkward. If I were Paul McGuiness, I'd have something to say about that.
8:04
-
Whitney Houston
! NO WAY! Look at that wig! Ridiculous! She needs to thank her plastic surgeon and personal trainer...
8:05
- And the Best R&B album goes to...
8:05
- Oh wait...Whitney has to make a speech... not surprised... she's so loaded... somebody give her a glass of water and an aspirin.
8:06
- The award goes to
Jennifer Hudson
! Well if you remember what I said in my
Predictions Column
...
8:08
- The Rock--er, Dwayne Johnson--apparently he kissed a girl and LIKED it.
8:10
-
Justin Timberlake
on stage. That's an awesome suit--where an I get an American flag in bronze?
8:11
-
Boyz II Men
,
Keith Urban
and the Rev.
Al Green
performing together onstage...Al Green's hair is so perfectly manicured--there's not a stray hair anywhere. Justin sings a verse from Green's classic, "Let's Stay Together".
8:13
- I love Timberlake, but He shouldn't be singing more of Green's song than Green; that man is on FIRE. Best falsetto in the business (sorry,
Prince
).
8:15
- THIS JUST IN...
Chris Brown
and
Rihanna
pull out of the Grammys due to a 'domestic incident' involving a battered woman. I don't have all the details, but I have a Chris Brown story of my own when I was living in Hollywood that would surprise people.
8:21
-
Simon Baker
presents
Coldplay
. Nice suit.
8:21
-
Chris Martin
plays "Lost" solo on piano. His piano and microphone are all colorful and artsy. That Chris Martin is real vibrant for a straight guy.
8:23
-
Jay-Z
joins Martin onstage to rap to piano. Haunting stuff.
8:24
- Now the full band is in effect! "Viva La Vida"! Will Champion is banging a church bell??? Now that's innovative stuff for an awards show.
Joe Satriani
must be bugging out right now. I can see him throwing his guitar at his 60" plasma and yelling obscenities.
8:29
- Okay, let's officially add
Carrie Underwood
to the "Women Who Looks Hot In Anything" club.
8:31
- Wow. Underwood's chick guitarist is totally shredding. And she's hot too. I don't think I've ever seen this before. Throw in a towel it's over!
8:42
- All right, Song of the Year time! If you remember, I voted for "Amerian Boy". The winner is... Coldplay! Coldplay! COLDPLAY!!! Man! Quick - somebody call Satriani's house and make sure he's still sane..
8:45
-
Kid Rock
starts off with one of his and goes into"Sweet Home Alabama". I gotta say, his transformation is on par with
Madonna
, if only in a purely musical way.
8:46
- I'm telling you, everybody's in a dope suit this year. Even Kid Rock is GQ tonight. Talk about raising the bar.
8:48
-
John Mayer
is a completely different lookingguy with short hair. He doesn't look like a rock star. In fact, he looks like just the type of guy
Jennifer Aniston
should be dating. They're perfect together. I bet you she actually wanted to do Playboy and he talked her out of it.
8:53
-
Miley Cyrus
and
Taylor Swift
! OMG! OMG! OMG!!!! I'm like, SOOOOO excited! They're SO cute!
8:54
- Wait, are they even legal yet?
8:55
- Miley sure does have something sparkly on the wedding finger of her left hand. That special bling is blinding me.
8:55
- That Taylor Swift sure has me sold. Girl can sing.
8:57
- Sixteen and Nineteen? Oh well, so I guess I can go on about how I like Taylor Swift some more...
8:58
-
Plant
and
Krauss
just won Best Pop Callabo. I smell a sweep...
9:00
- Jennifer Hudson takes the stage. She came out like an old school Anita Baker.
9:01
- Why are her vocals mixed to the background? Somebody in the sound department is FIRED! This is just as bad as TV on the Radio's performance last night on SNL. At least Hudson's in tune...
9:03
- Man, when a great performance on TV is ruined by a horrible sound mix, that's..just..terrible..
9:04
- Two words to describe Heidi Klum playing Guitar Hero in her house clothes: oh yes.
9:09
- Jason Mraz needs to tell me where he buys his hats..
9:10
- The Jonas Brothers! And 710 teenyboppers faint in bedrooms across America.
9:10
- Stevie Wonder's microphone is turned down! Damn it!
The Jonas Brothers and Stevie Wonder @ Grammy Awards 2009

9:11
-
Jonas Brothers
sure do put their all into their performances. They remind me of the cheerleaders at Sea World who get you all ready for Shamu...
9:13
- This microphone problem is irritating.
9:14
- Question: So, do the Jonas Brothers qualify as "rockers"? They play guitar, they rock out...but there's something very "Rock Band" about it. Lip synchers? Maybe not, but do they guitar synch? I really wonder about this...
9:14
-
Blink 182
! Back together again! Maybe because-- oh you know what? Travis is in a sling. They'll get a pass.
9:16
- Coldplay win best rock album. Really. Martin is definitely on the money by saying the least rock of the rock albums. Pfff.
9:22
- Ladies and gentlemen,
Craig Ferguson
!
9:23
- "Ladies and gentlemen, the beautifully bi-curious
Katy Perry
!"
9:24
- Kids, here's an example of how to successfully spill out of a dress...
9:24
- BTW, did you see the photos that leaked of her actually spilling out of her dress??
9:25
- BTW, the vocal leveling for this entire show has been ghastly.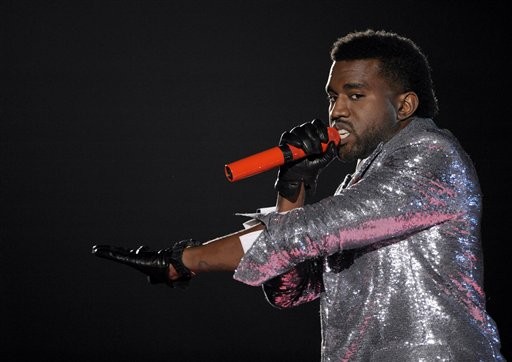 9:27
- American's favorite well-mannered son
Kanye "Jesus" West
comes on stage, and he looks like a "Billie Jean" era
Michael Jackson
circa 1982. (see also:
Kanye West's Grammy Mullet
)
9:28
-
Estelle
and Kanye are SHINY! Look at Kayne Jackson's hair! Ohh that's just wrong on so many levels.
9:30
- Adele wins best new artist. Well deserved. I bet this is the first time America has seen her face.
9:34
- Speaking of 1982, there's a LOT of people walking around NY these days like it's 1982. They even got boomboxes. What the hell? Are these still sold in stores? If the Jheri curl comes back I'm moving to France.
9:36
-
Morgan Freeman
is in the house! Whew! I was worried that his woman might've strangled him after what happened...
9:37
-
Kenny Chesney
holding it down with his guitar. Looks like they fixed the vocal mics problem. Actually, the vocal mics worked for Swift and Cyrus too. Makes me wonder if the engineers are the reverse of all those "I love everything but Country Music" people...
9:40
-
Natalie Cole
! Also known as Whitney's temporary roommate for a while, if you know what I mean...
9:41
- Record of the Year. Probably will go to Coldplay again, the way things have been going (there's always a sweep)
9:41
- Plant and Krauss again! It's shaping up to be a two horse race!
9:42
- I'm so surprised that Plant wins a Grammy and people only marginally clap. Do they not know who this man is?? LED FRIGGIN ZEPPLIN! See? That's what happens when you give a Grammy to an old timer in front of a bunch of people signed up to the Jonas Abstinence Club.
9:44
- I mean, can you take the sex and drugs out of rock an roll? Oh, wait. The Jonas Brothers are giving their list of 500 newly signed petitioners to Coldplay. It all makes sense now...
9:48
-
Queen Latifah
has the most godly compexion ever.
9:49
- Jay-Z, Kanye,
Lil Wayne
, and T.I. together on stage! But wait!
M.I.A.
! Preggo!
9:50
- Every time I see T.I. I'm just happy this cat isn't in jail.
9:50
- The Rat Pack! I mean the Black Pack!
9:51
- M.I.A. is on her own planet with the "swagga". Good Lord she's on Mars. I don't even know if this is an insult...no...definitely not an insult...
9:52
- T.I. just got served on his own track. But if there was a Mt. Rushmore for current rappers, you're looking at them.
9:54
- BTW, are Jigga and Chris Martin still BFFs?
9:55
-
Kate Beckinsale
! I need a drink...
9:55
- Sounds like
Paul McCartney
is about to come out. Back to Beckinsale--her hair is phenomenal.
9:55
- I'm sorry, it's Sir Paul McCartney.
9:56
- With Dave Grohl on drums, they're doing "I Saw Her Standing There". Grohl looks like he seriously just rolled out of bed.
9:57
- BTW, how come every time Paul--Sir Paul plays in front of a nationally televised audience, he's playing songs from thirty-five years ago? He and Stevie. I mean can you imagine Madonna coming on next to perform "Holiday" or "Like a Virgin"? Let's hope Radiohead plays "Creep"...
9:59
- Time out: I just saw a bunch of pictures of Speidi doing really stupid workout moves and forms of PDA online. Talk about cheesetastic. I'm convinced Spencer Pratt has taken the Art of Smug to a whole new legendary level.
10:05
- Best Male Pop Vocal - and Kid Rock somehow is nominated. But the award goes to, John Mayer!
10:06
- OH COME ON! Where's Jen!
10:06
- He's always so sincere when he speaks publicly. He's always so irritated when he speaks to TMZ and other assorted paparazzi.
10:07
- What's up with
Jay Mohr's
hair?
10:09
- Another superb vocal performance by a country singer. They're killin' em softly this year. Why does the bottom half of her blouse look like a lampshade?
10:11
- Adele performs "Chasing Pavements". Her voice is amazing. Why couldn't CBS give Jennifer Hudson this kind of love so we could hear her? Utterly unacceptable.
10:13
- BTW, what's up with all these rappers performing twice?
10:19
-
Gwyneth Paltrow
is so leggy. What's up with that dress?
10:20
-
Radiohead
! (YAY!) With the marching band from USC! (BOO!)
10:20
-
Thom Yorke
is looking like old Thom Yorke. Like Thom York when Radiohead first came out. Very retro.
Radiohead - 15 Step GRAMMY AWARD PERFORMANCE

10:21
- this performance is hot! The marching band is hot too, I regret to advise! (I kid about hating on USC! Sort of...)
10:22
- It's official, Radiohead has turned in the best performance of the night. Standing O's all round.
10:29
- Justin and T.I. on stage (again). Justin's mic is in the background. So is T.I.'s. Conspiracy? I think so!
10:31
- But hey, at least T.I.'s not in jail...
10:35
- Obama's won Grammys? Wow. Proof #1,586,304 we have a black president!
10:37
- I don't, it's weird having someone giving a "Yes We Can" speech who isn't Obama. He should trademark that speech or something.
10:37
- They really like to show McCartney and his chick a lot.
10:39
- I want a full Congressional hearing into this "Mic Malfunctions for Non-Country Stars" thing.
10:40
-
Jamie Foxx
,
Smokey Robinson
and co. did a bang-up job.
10:43
- So apparently, Justin performed twice because he was the one replacing Chris Brown and Rihanna. Not lookin' too good for our boy Chris.
10:47
-
Neil Diamond
! And he looks quite rested! And a little scared. He's totally putting on a Nixon face. Hide your children.
10:49
- But sweet Caroline is a timeless song... BAH-BAH-BAAAAH!
10:49
- The microphone problems haven't been fixed three hours into this thing. Astounding. Am I missing something? Should I be listening to this in Dolby 5.1?
10:53
- Chef!
10:55
- We got a blues battle on stage and the guitars are turned down like the mics. I give up.
11:04
- Lil Wayne on stage (again) with
Robin Thicke
. Very low-key performance. Can't hear Thicke.
11:09
- I see empty seats!
11:10
- Best Rap Album goes to...
11:11
- Tha Carter III!
11:11
- Lil Wayne brings his entire family onstage! There's about to be a Carter ho-down backstage. BBQ, ribs, crab legs, jambalaya ...
11:18
- Plant and Krauss are performing. It's almost 11:30, which means if they're last performers to go they may likely win the Grammy for Album of the Year...
11:21
- Robert Plant is smiling like he knows he's gonna win the big one.
11:22
- It's amazing that no one got cut off on their acceptance speech this year.
11:23
-
Green Day
are up to present the Album of the Year...
11:23
- Was Ne-Yo's album Album of the Year good??
11:24
- And the winner goes to.... (they won't give it to Wayne...rap haters...)
11:24
- Plant & Krauss!
11:25
- And the people file out of Staples Center faster than you can say "robbed!"
11:26
- Well...looks like they finally cut someone off...
11:27
- And it's Stevie Wonder! AGAIN!!!!
What did you think of last nights Grammy Awards?
Story by
Simbarashe
Starpulse contributing writer