Chris Brown Pays Tribute To Michael Jackson & Cries At BET Awards; See Full List Of Winners, Video & Photos!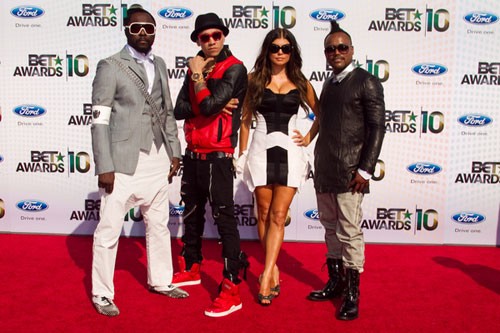 R&B star Chris Brown stole the limelight at the 2010 BET Awards on Sunday night when he performed a showstopping dance tribute to the late Michael Jackson.
 
The "Kiss Kiss" hitmaker was introduced to the stage by Jermaine Jackson to mark the first anniversary of the King of Pop's death.
The young singer showed off his fancy footwork to "The Way You Make Me Feel," "Smooth Criminal" and "Billie Jean" but struggled to complete his tribute segment as tears streamed down his face while trying to sing Jackson classic "Man in the Mirror."
 
His surprise addition to the show's line-up came a year after Brown was forced to bow out of plans to take part in the Michael Jackson memorial concert following his highly-publicized bust-up with ex-girlfriend Rihanna.
 
It was also a big night for Kanye West, who kicked off the 10th annual ceremony with a defiant performance of his new song "Power," making his first major televised appearance since storming the stage at the 2009 MTV Video Music Awards.
 
A pregnant Alicia Keys led the way at the ceremony taking double honors for Best Female R&B Artist and Best Collaboration for her work on Jay-Z's New York anthem, "Empire State of Mind," while Lil Wayne's proteges Drake and Nicki Minaj ruled the main rap categories, taking the Best Male and Best Female Hip-Hop Artist titles, respectively.
 
Both artists made sure to remember their incarcerated boss, real name Dwayne Carter, as they accepted their prizes, with Minaj dedicating her award to the jailed star as Drake called Wayne "my hero and my mentor."
 
John Legend was honored with a special prize for his philanthropy, while Keys, Janelle Monae, Patti LaBelle and Esmeralda Spalding all took part in a musical tribute to Lifetime Achievement Award winner Prince.
 
The audience at Los Angeles' Shrine Auditorium welcomed the soul icon to the stage with a standing ovation and Prince thanked his fans for their longrunning support as he hailed the promising new talent in the music industry.
 
He said, "I do believe the future is in good hands. I've seen so much talent here tonight.., and I'm just so thankful to be a part of this world of music. I was pretty wild in my younger days and you don't have to do what I did; you don't have to make any of the mistakes that I made. The future is in your hands now, the world is really yours."
 
It was a night of collaborations, with B.o.B. teaming up with Keyshia Cole and Eminem for "Airplanes," and Diddy-Dirty Money being joined by Rick Ross, T.I. and Nicki Minaj for the "Hello, Good Morning" remix, while Minaj stepped onstage again for Ludacris' show finale with rocker Tommy Lee on drums for his single "My Chick Bad."
 
Ludacris closed the show as part of DJ Khaled's all-star line-up for "All I Do Is Win," bringing out the likes of T-Pain, Busta Rhymes and Sean 'Diddy' Combs to help bring the night to an end.
 
Other highlights of the 10th Annual BET awards included performances by Usher, El DeBarge and Alicia Keys, who sang a medley of her hits including "No One," "Try Sleeping With a Broken Heart" and "Unthinkable (I'm Ready)."
 
Late stars Lena Horne, Teddy Pendergrass, and former child actor Gary Coleman were also remembered at the annual awards show, which was hosted by Queen Latifah.
 
Presenters included Jada Pinkett Smith, Taraji P. Henson, Nia Long, Ciara and Mike Epps.
The main list of winners at the 2010 BET Awards is as follows:

 Best Female R&B Artist - Alicia Keys
 Best Female Hip-Hop Artist - Nicki Minaj
 Best Male Hip-Hop Artist - Drake
 Best Collaboration - Jay-Z and Alicia Keys, "Empire State of Mind"
 Best Male R&B Artist - Trey Songz
 Video of the Year - Beyonce and Lady GaGa, "Video Phone"
 Humanitarian Award - John Legend
 Lifetime Achievement Award - Prince
 Sportsman of the Year - LeBron James
 Sportswoman of the Year - Serena Williams
 AOL Pandemonium Prize - Chris Brown