Chris Brown Paints Jesus Christ: 'The Way I feel Today'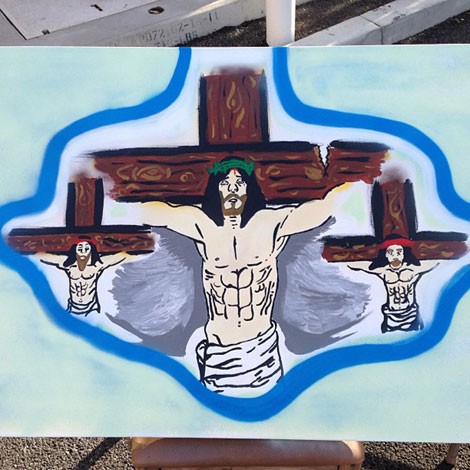 Apparently Chris Brown feels like he's been crucified. The troubled rapper painted and posted an image of Jesus Christ on the cross to Instagram with the message: "Painting the way I feel today. Focus on what matters!"
Brown is currently sought for comment on the brawl that took place Sunday night between him, Frank Ocean, and their two posses. Ocean stayed behind to talk to police, and Brown fled the scene. After tweeting he "got jumped by chris and a couple guys," Ocean is seeking to press charges.
The fight is just another in the long line of physical altercations Chris Brown has found himself in trouble for. Last June Brown got into a fight with Drake after words about Rihanna were exchanged, a fight that injured NBA star Tony Parker. 
Of course, before that Chris Brown severely beat then-girlfriend Rihanna before the 2009 Grammys. He and Rihanna have since had to endure criticism whenever photos of them together are posted.
We don't quite see the resemblance to Jesus.