Chris Brown Kisses Rihanna At The VMAs - Video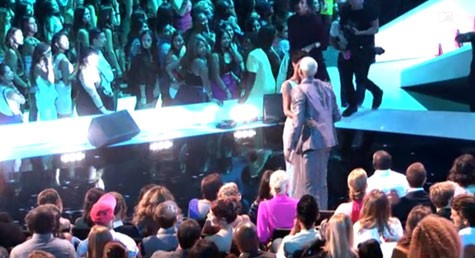 One of the lasting images from last night's MTV VMAs was a quick smooch between two former lovers. While presenters were chatting (with the network camera locked on them), Rihanna left the stage at the Staples Center in Los Angeles, after accepting the award for Video of the Year for her song "We Found Love," and walked near Chris Brown.
An auxillary camera captured a brief moment in which Rihanna approached the man who left her battered on the eve of the 2009 Grammy Awards, put her arm around him, and received a kiss on the cheek.
The two pop stars have been dating other people since their public fallout, but Rihanna recently called Brown the "love of her life" in an interview with Oprah.