Chris Brown Gets A Battered Woman Tattooed On His Neck; Claims It's Not Rihanna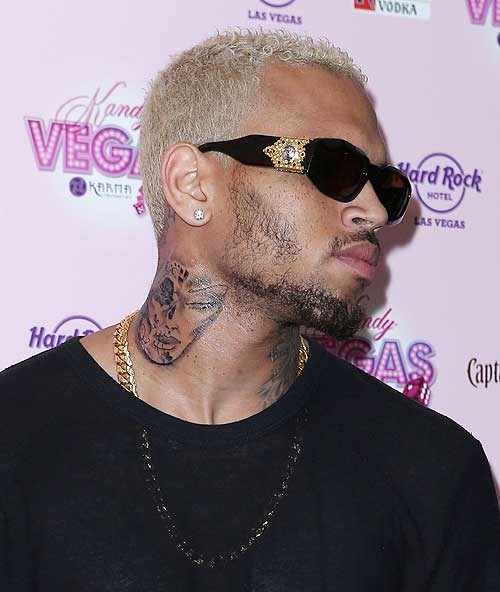 Rihanna isn't the only star with a new tattoo, her ex-boyfriend Chris Brown was spotted with a new ink on the side of his neck that's sure to turn some heads and anger a few people. He's either the dumbest person on the planet or perhaps the most misunderstood.

The new tat very closely resembles one of the images of Rihanna that were released last year after he beat her on the eve of the 2009 Grammy Awards.

The photos of Rihanna show her with one black eye, numerous bruises and scratches on her face, and what appear to be three scratches across her lips and chin (see the pics at TMZ.com).

Brown's reps say that "any similarities" between his tattoo and Rihanna's beaten face are coincedental. "It's a random woman," a source told TMZ.

In what might be an even dumber move, the couple kissed while passing each other at this year's MTV Video Music Awards last Thursday night.

According to MediaTakeOut.com, "the streets" say that Brown told Rihanna to "look at my neck," after which she kissed him.

Rihanna showed off her own fresh ink on Monday, a giant new tattoo of the Egyptian goddess Isis below her breasts.

We think Brown's new tat is definitely Rihanna, what do you think?