Chris Brown And Frank Ocean Brawl In L.A.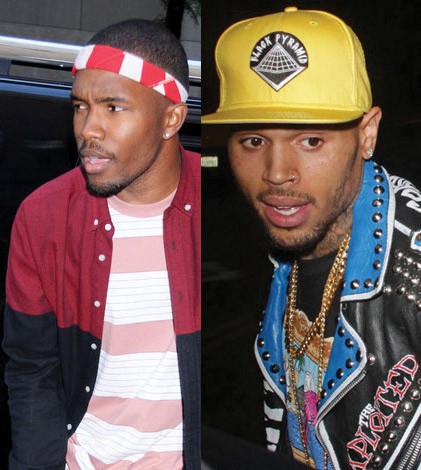 Musicians Chris Brown and Frank Ocean got into an all-out brawl Sunday night at an L.A. recording studio over a parking space.
According to sources who spoke to TMZ, Ocean blocked in Brown's car in the parking lot and declared "This is my studio, this is my parking spot." That's when Brown reached to shake Ocean's hand, before their two posses rushed in and began fighting.
Police arrived on the scene to find only Ocean's side in the parking lot; Brown had already fled the scene. Ocean is currently listed as the "victim" in the police report because he stuck around to speak with authorities. He told police that Chris punched him over a parking space, and 6 people were involved in the brawl. 
At this moment, no one has pressed charges and authorities are seeking Brown to question him on the altercation. 
Ocean tweeted on the brawl, "got jumped by chris and a couple guys. lol. i only wish everest [Ocean's dog] was there. cut my finger now I can't play w two hands at the grammys."