Chris Botti To Tour With David Sanborn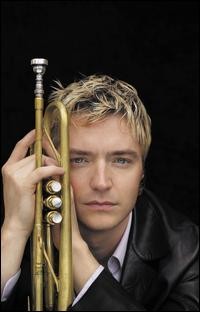 Best-selling jazz trumpeter
Chris Botti
-- whose "What Are You Doing For The Rest Of Your Life?" has just won a Grammy Award -- will join forces with the legendary multiple Grammy-winning jazz fusion saxophonist
David Sanborn
for a run of very special tour dates beginning February 15 at the Civic Center in Des Moines, Iowa (see itinerary following).
Botti and Sanborn will be accompanied by a powerhouse backing band featuring fellow Grammy-winners
Billy Childs
on piano and drummer Billy Kilson. Bassist James Genus will perform on the ensemble's February dates with Kenny Davis coming on-board to play bass during the March leg of the tour.
Billy Childs won two Grammys this past week: Best Instrumental Arrangement Accompanying Vocalist(s), along with Gil Goldstein and Heitor Pereira, for his work on "What Are You Doing For The Rest Of Your Life?" from Chris Botti's #1 Jazz album, "
To Love Again
" and Best Instrumental Composition for "Into The Light" from the Billy Childs Ensemble album, "Lyric."
Drummer Billy Kilson, who first worked with Botti on 2004's best-selling "When I Fall In Love" album, may be heard drumming on the
Dave Holland Big Band
's "
Overtime
," which won this year's Best Large Jazz Ensemble Album Grammy.
Botti won his first Grammy recognition for his role as producer on the 1994
Brecker Brothers
release, "
Out of the Loop
," which picked up that year's Top Contemporary Jazz Albums award.

The versatile
David Sanborn
has won a total of six Grammy Awards -- in categories including Jazz, Pop, and R&B -- over the course of his remarkably diverse musical career.
During the course of the tour, Chris Botti will be dropping by PBS affiliates across the country to promote his Pledge Drive Special, "Chris Botti Live with Orchestra & Special Guests," set to premiere during the March Pledge Week (see: "
Chris Botti Live Special To Air On PBS
" for more details). A full concert version of "Chris Botti Live with Orchestra & Special Guests" is slated for DVD release in late March.
Chris Botti February - March Tour Dates
Wednesday, Feb. 15, 2006 Des Moines IA Civic Center *
Thursday, Feb. 16, 2006 Omaha NE Orpheum Theatre *
Friday, Feb. 17, 2006 Dallas TX "SAVOR DALLAS" FEST *
Saturday, Feb. 18, 2006 Kansas MO Beaumont Club *
Sunday, Feb. 19, 2006 Muncie IN Emens Auditorium *
Monday, Feb. 20, 2006 Harrisburg PA Whitaker Theatre *
Tuesday, Feb. 21, 2006 Harrisburg PA Whitaker Theatre *
Wednesday, Feb. 22, 2006 Cleveland OH Playhouse on the Square *
Thursday, Feb. 23, 2006 Washington DC Warner Theatre *
Friday, Feb. 24, 2006 Glenside PA Keswick Theatre *
Saturday, Feb. 25, 2006 Baltimore MD Lyric Opera House *
Sunday, Feb. 26, 2006 Waterbury CT Palace Theatre *
Monday, Feb. 27, 2006 Decatur AL Princess Theatre
Friday, Mar. 03, 2006 St. Louis MO Touhill PAC
Wednesday, Mar. 08, 2006 Beaver Creek CO The Vilar Center
Thursday, Mar. 09, 2006 Colorado Springs CO Pike's Peak Center
Friday, Mar. 10, 2006 Sioux Falls SD Washington Pavilion
Saturday, Mar. 11, 2006 Minneapolis MN State Theatre
Wednesday, Mar. 22, 2006 Redding CA Redding Convention Center *
Thursday, Mar. 23, 2006 Sacramento CA Radisson Hotel Ballroom *
Friday, Mar. 24, 2006 San Francisco CA Masonic Hall *
Saturday, Mar. 25, 2006 Fresno CA Saroyan Theatre *
Sunday, Mar. 26, 2006 San Diego CA Spreckles Theatre *
Tuesday, Mar. 28, 2006 Sahuarita AZ Desert Diamond Casino *
Wednesday, Mar. 29, 2006 Palm Desert CA McCallum Theatre
* With
David Sanborn