Chloe Sevigny Worries Fashion-Forward Reputation Hinders Her Film Career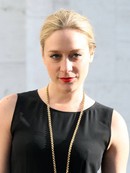 Chloe Sevigny fears her fashion-forward reputation has hindered her acting career - because movie bosses don't take her seriously.

The Big Love star took up an interest in high fashion during her teenage years and has landed a slew of modeling jobs, served as the spokesperson for French label Chloe and even designed a number of her own collections.

However, Sevigny admits her style obsession may have ruined her chances of becoming a real Oscar contender.

She tells Interview magazine, "I am worried that some of the choices I've made - and because people think of me as this fashion icon - might have affected my film career."
"That people don't think of me as a serious actress as much sometimes worries me."