Chloe Moretz Doesn't Just Play Dress Up In 'Kick-Ass'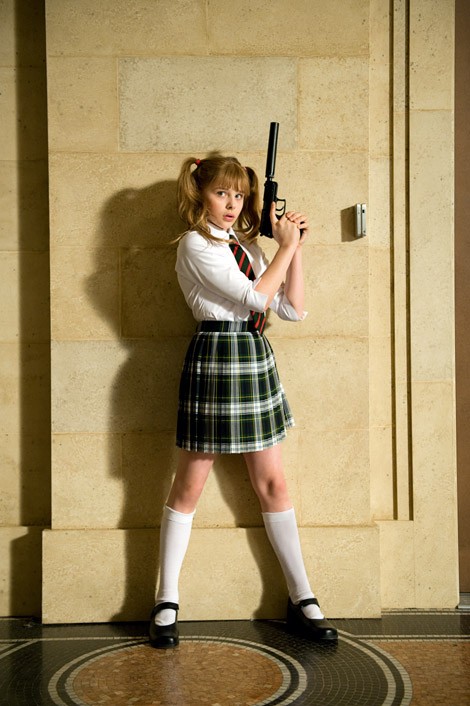 "Kick-Ass" burst into theaters in early 2010 to rave reviews from critics and fans alike. The movie, which is based on Mark Millar's comic book, focuses on a group of superheroes. But unlike Superman, Batman and Spiderman, these crime fighters are all kids. The movie is heavy on the fighting and superhero escapades but also on the language the young actors use throughout the film.
Chloe Moretz, who plays Hit Girl, got plenty of attention with the especially colorful language her character uses in several key scenes. The 13-year-old Moretz, who had a surprisingly mature performance in 2009's "500 Days of Summer," sounds more like a veteran actor musing over their decades of work than a young teenager still several years away from having a driver's license.
When asked how she picks the roles she does, Moretz says, "I look for really great scripts that I know will stretch my acting ability and help me become a better actor." Moretz has done just that and in her performance as Hit Girl is one of the best parts of "Kick-Ass." 
In the movie, Hit Girl's father, Big Daddy, is played by Nicolas Cage who is no stranger to controversial or eccentric roles. "We were really friends from the start," Moretz says of working with Cage. "We met and were immediately buddies. He's an amazing guy. We just let the emotions go and we were able to create this great father-daughter relationship."
Matthew Vaughn, the director of "Kick-Ass," is currently working on "X-Men: First Class" but will also appear on the "Kick-Ass" DVD and Blu-Ray editions of the film on the audio commentary track. "Matthew is an amazing director," Moretz says of Vaughn. "I was truly, truly privileged to work and learn from him."
Vaughn isn't the only big name director that Moretz has worked with. This fall she appears in the American adaptation of the novel "Let the Right One In" called "Let Me In" and is currently working with none other than Martin Scorsese on "Hugo Cabret" which is based on the popular children's book.
When fans buy the DVD or Blu-Ray, which is now available, they will get plenty of behind-the-scenes action. "There's plenty of my training and all the practice that went into filming on the dics," Moretz says of the special features. "We trained for six months and it was pretty intense."
Fans will definitely enjoy Moretz and the rest of the cast in one of the most unique and creative superhero movies to come out in the last few years. And if you don't enjoy it, they'll kick your ass.