'China Beach': Robert Picardo Revisits The Classic Series As It Finally Makes DVD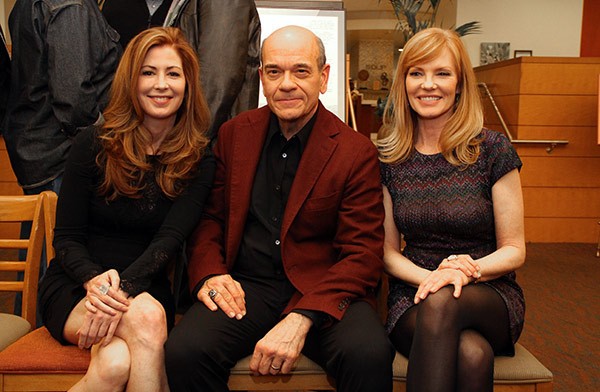 One of the stars of China Beach was the beloved TV veteran Robert Picardo, who played Dr. Dick Richard on the series at the same time as he was appearing on The Wonder Years, and well before he found sci-fi fame on Star Trek: Voyager and Stargate: Atlantis. Robert (pictured above with Dana Delany and Marg Helgenberger at the China Beach reunion) kindly took time recently to reminisce with BFTV about this special series.
"I don't know if you think it's going to be talked about in 25 years, but we did have a sense working on it," he explained. "There was a drive, especially because [co-creator] Bill [Broyles] had been there, to get it right and to make it real. That sense of responsibility, that we were telling important stories and we really wanted to get it right, was something that the producers communicated to us.
"We had these seminars before season one and season two," he continued. "They would fly in different Vietnam vets. I remember like ten, twelve people would come and they would tell our stories to us, and a lot of their stories were adapted directly into stories we told on the show. I remember listening to guys, and it was so intense to just hear them relating what they had seen and what they had been through."
What installment of China Beach was Robert's point of pride? "My favorite from my character's point of view," he said, "There's an episode called 'Crossing the Great Water' and that was the one where he sort of falls apart. Everything that he had been before he was drafted has finally crumbled. His wife has had an affair and divorced him. All of his identity has fallen apart and he has to kind of rebuild himself out of that. That was the most fun because when we first met my character, he was so arrogant and full of himself. To see that kind of surface arrogance and self-confidence become peeled away made it fun to play as an actor. That was one of the more emotional episodes [for] my character. Having said that, I also love that he had the gallows humor and joked under the worse circumstances."
The hope is that with the release of the Complete Collection, a new audience might find China Beach for the first time, and we asked Robert if there's anything first-time viewers should know before they dive into this cult classic. "The thing they need to know is it doesn't seem like an old television show," he told us. "It doesn't seem dated at all. It was out of time when we made it the first time around, and that makes it more enjoyable. They'll be seeing it with the great, great music from the 1960's, all the great Motown songs."
He believes the show still holds up after all these years. "I haven't seen the pilot probably in 15 or 20 years. Last night I popped the pilot episode in just to see the quality of the DVD transfer and I couldn't stop watching it," he admitted. "I had to get up at 5 AM and I'm up late watching a 25-year-old television show just because it's so good!"
China Beach wasn't Robert's only role on a successful television show. He also had the recurring part of Coach Cutlip on The Wonder Years ("which I did at the same time as China Beach, and the only reason I was allowed to do that was they were both on the same network," he confided), and more recently we know him as the Emergency Medical Hologram (EMH) from Star Trek: Voyager and Richard Woolsey across threee Stargate series.
Which one of these beloved properties is he most known for? "Star Trek is still my signature role because once you do a Star Trek series, it's never really out of the marketplace," he said. "Voyager has been re-run a few times and now it's on Netflix for instant viewing. I'm recognized more internationally for that.
"But I am always surprised and gratified how many Star Trek fans come up to me and talk about China Beach," he added. "The people that loved it really loved it a lot. They had a real emotional connection to it."
"I think I've been pretty fortunate," he said, reflecting on his extensive career to date. "The Wonder Years, which is one of the best comedy series of all time, also languishes in DVD non-release because of music rights, and I'm sure because it ran so many years more than China Beach that's a much bigger project. After Star Trek, I was the commander on Stargate Atlantis the final season, and once my character had become a good commander, I was sorry that the show didn't last beyond that.
"Sometimes I have little movies that I've made that I wish would be seen by a larger audience. I have a horror movie called Sensored which I'm very creepy and disgusting in, and then I have a family drama called The Legends of Nethiah which has a science-fiction B-story. I play two characters in the movie; I'm the grandfather and then I'm one of the heroes in the sci-fi story." He also appeared in one episode of Body of Proof opposite his China Beach colleague Dana Delany.
Outside of his tremendous acting resume, Robert is on the Advisory Council of The Planetary Society, for which his close friend Bill Nye serves as the current CEO. The Society's mission is "to basically stimulate public interest in the space program, and to advocate for our government's continued investment in the space program and in science," explained Robert. "It was founded over 30 years ago by Carl Sagan, Bruce Murray and Louis Friedman. It's got a great pedigree." To find out more about The Planetary Society, including how you can get involved, be sure to visit the organization's website.
What TV gets his attention? "I'm really looking forward to the reboot of Cosmos," he said, referring to the new version of Sagan's 1980 science-television series, which will be hosted by astrophysicist Neil deGrasse Tyson, and air on FOX and National Geographic Channel simultaneously in January 2014. "I couldn't be more excited about that."
China Beach: The Complete Collection is available exclusively through Time-Life's website. You can also keep up with Robert on Twitter (@RobertPicardo). A clip revisiting his China Beach character Dr. Richard is below. Happy viewing!
(c)2013 Brittany Frederick. Appears at Starpulse with permission. All rights reserved. No reproduction permitted. Visit my official website and follow me on Twitter at @tvbrittanyf.