'China Beach': Robert Picardo Revisits The Classic Series As It Finally Makes DVD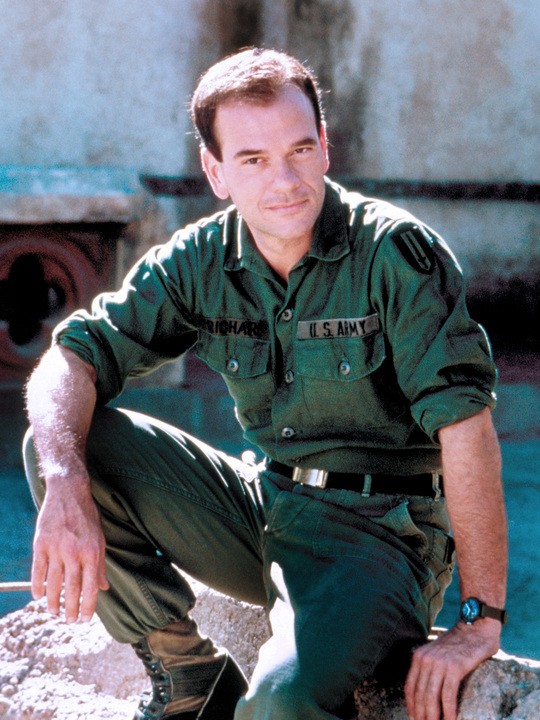 For TV fans and DVD lovers alike, April of 2013 is going to be a month to remember. That's when Time-Life finally delivered ABC's classic Vietnam-era drama China Beach on DVD. China Beach: The Complete Collection is the answer to years of fans' hopes to see the memorable 1988-1991 series and a gift to TV on DVD enthusiasts alike. Read on for my review of the epic 21-DVD set - as well as my interview with show star Robert Picardo, who helped me commemorate this fantastic occasion by sharing his own memories of China Beach.
First things first: this massive compilation is targeted at the devoted fans of China Beach, and in that respect it does not disappoint. The set is everything a fan could ask for out of a TV on DVD collection. For a show that's celebrating its 25th anniversary, the transfer of episodes is great; the picture is solid (you can see screenshots on the Time-Life website) and the audio likewise does the job. And speaking of audio, Time-Life spent more than a year getting clearance for over three hundred songs, so that the show can be almost entirely enjoyed as originally broadcast. (No word on which tracks are missing, but our friends at TVShowsonDVD.com have the entire list of cleared music, direct from Time-Life.) This is China Beach as fans remember it.
There's a whole plethora of special features here, too, totaling approximately ten hours and covering almost everything that you could want. That means the recent reunion of cast and crew, including Delany, Picardo and Helgenberger. There are separate new interviews with cast, crew and creators John Sacret Young and William Broyles, Jr. Various featurettes dig into a number of topics, from reminiscing about the making of the show to its legacy two and a half decades later. The usual gag reel and deleted scenes appear. Even that somewhat forgotten gem of DVDs, the audio commentary, is included. There are five of them here, with an interesting mix of participants including Delany, Picardo, Young and other crew members - and they cover the episodes you'd expect, including the pilot and series finale.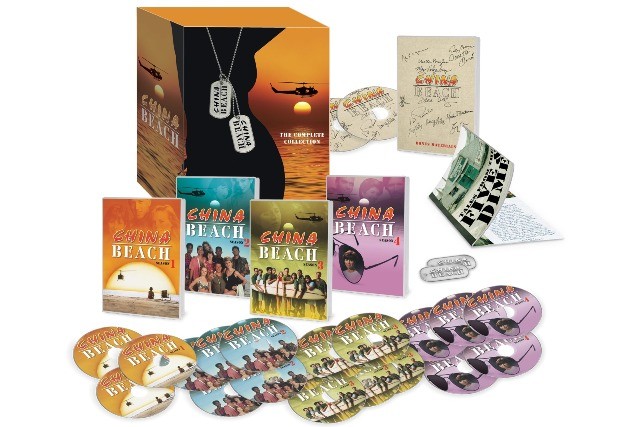 The most valuable inclusion, though, might be the one thing that's usually a throwaway: the booklet. For China Beach, the documentation is 36 pages, and it's truly fascinating reading. You'll see the blurbs from the writers' bible that first described the characters before they were cast. There are comments from the actors reflecting on not just their characters, but others as well. And poignantly, there are reproductions of actual letters received by the production from actual veterans and fans, talking about what the show means to them. It drives home the point that television can be so much more than just mindless entertainment. Even if you watched every episode of China Beach as it aired, you'll come away with something new from these bonuses.
Most importantly, this is a set that came to be because of the devotion of the fans, and that same passion for China Beach comes across in every aspect of the finished product. It's clear listening to the cast and crew across the various extras that they still care about the show and respect its place in their careers. And from the sheer amount of content here, you can tell that Time-Life also was passionate about putting together a proper release. This is a real labor of love - exactly what we want our DVD sets to be.
If you haven't seen the show before, though, this set should still deserve consideration on your shelf for a multitude of reasons. Body of Proof fans can see Dana Delany in the role that won her two Emmy Awards. Ditto for those of you who know Marg Helgenberger from CSI: Crime Scene Investigation or Robert Picardo from Star Trek: Voyager. China Beach is a significant part of how these actors became the people you love to watch today.
It's also a joy for those nerds among us who just love what makes television tick. Here's a show that has all sorts of things worth appreciating, from how it recreated the Vietnam era, to the fact that it wasn't afraid to do an episode in 1975 one week and 1983 the next, to its extensive use of music both traditionally and in on-screen character performances.
Then there's the pedigree: uber-producer John Wells was a big figure on this series before he moved on to the likes of ER, Third Watch and The West Wing. Mimi Leder directed many episodes of China Beach early in her well-respected career. CSI: NY star Gary Sinise also helmed one of the later installments.
And if you like more in-depth material, that's here, too. The featurettes have some thought-provoking stuff in them. One compares the fictional reality of China Beach to the real Vietnam War. Another talks about the creation of the series. A third covers its legacy. Watched completely, this is a collection that really allows you to trace the entire life of a TV series. If you know television, there's something for you in China Beach.