'Childrens Hospital' Star Erinn Hayes Previews New Flick 'It's A Disaster'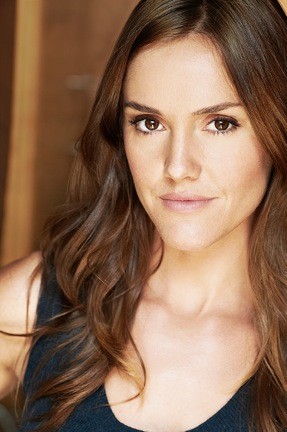 It's the end of the world and Erinn Hayes feels fine. The Childrens Hospital actress recently chatted with me prior to the LA Film Fest premiere of her new film It's A Disaster about armageddon, her show and her upcoming guest role on USA's Suits.
In It's A Disaster, Hayes plays Emma, one of a group of couples who are forced to deal with their issues when what was supposed to be a normal get-together is derailed by the possible end of the world. It's not your typical relationship flick. The dark comedy is written and directed by Todd Berger, and also stars Julia Stiles (Save The Last Dance), David Cross (Arrested Development), America Ferrera (Ugly Betty), and Rachel Boston (In Plain Sight).
"I really loved the part," she told me. "I was so happy to have been thought of. The script was well-written and it made me laugh. It was just so funny, the way the characters dealt with each other and their relationships, and the situation and how they didn't deal with it. This movie was an incredible experience."
Her favorite scene in the flick is one that "I don't think I had any lines in. There's a scene where we're all just resigned to being in the house and Rachel [Boston]'s playing the xylophone and Kevin [M. Brennan]'s playing the guitar. They're all just so resigned. I thought it was a great scene."
And although the film is described as a "doomsday comedy," Hayes explained that it's more of a backdrop for the characters' personal drama. "I think we prepared and also didn't prepare [for it]," she said of the element of possible armageddon. "I mainly prepared [for] the relationship between the characters and let the outside situation seep in. There's moments where everybody realizes [it], but you only get glimpses of what's going on outside. It's more about the group of friends and what's going on with all of their relationships. For most of them, it seems like just this huge inconvenience," she added with a laugh.
In addition to It's A Disaster, Hayes is also a regular on the Adult Swim series Childrens Hospital, which returns August 4. "I think everybody should be watching Childrens Hospital," she enthused. We're in our fourth season and I'm really proud of that. That show's amazing and so funny and fun."
Later this season, she'll be seen on the USA series Suits, though not as much as you might have thought. "I did one scene. It's not even that long of a scene," she said. "It's somebody from Harvey [Specter]'s past that he goes to for help, and there's not much said about our relationship. I wished that it were more. I ran into the producers at the Austin Television Festival and said as much."
Though they didn't work together long, of series star Gabriel Macht, she said, "He was great. He's really a solid guy."
Hayes has also booked a regular role in the new NBC series Guys With Kids, about a trio of new fathers played by Anthony Anderson, Jesse Bradford and Zach Cregger. She'll play Sheila, the ex-wife of Bradford's character who is now dating former NBA star Patrick Ewing. Hayes replaces Sara Rue, who herself had stepped in for Courtney Henggeler.
While she's known for her television work, that's not all that Hayes wants to do with her career. "I feel really lucky and fortunate to have done that," she explained. "I also love film and I just haven't had the chance to do as much of that. I'm slowly inching my way through that door, which was why this [movie] was such a great experience. I was so happy to be a part of it, and with such an amazing cast.
"I'm going to film some scenes for the new David Wain/Michael Showalter movie They Came Together," she said when asked about her next projects. "I shot a really great episode of the new TBS show The Wedding Band. I play this rival wedding planner to Melora Hardin. That's a really big episode for me; they gave me quite a bit to do." The Wedding Band premieres later this year.
In addition to working on television, Hayes is also a fan of the medium. Her favorite shows include the usual suspects - Mad Men, Game of Thrones, Breaking Bad - as well as some that might surprise you. "I was so sad that Best Friends Forever got cancelled," she said. "I thought it was a great show and NBC didn't give it a chance. I'm a big fan of the NBC comedies.
Outside of the Peacock, "[ABC's] Happy Endings is great. Everybody should be watching Burning Love on Yahoo. [HBO's] Girls is really blowing my mind right now." Fitting choices for an actress with ace comic timing who's survived the apparent end of the world.
You can find out more about Erinn by following her on Twitter (@HayesLady). It's A Disaster premiered at the LA Film Fest last week. Childrens Hospital returns in August.
For more from Brittany Frederick, visit my Starpulse writer page and follow me on Twitter (@tvbrittanyf).
(c)2012 Brittany Frederick/Digital Airwaves. Appears at Starpulse with permission. All rights reserved. No reproduction permitted.