Chicago Rappers Do Or Die Return March 28 With 'Get That Paper'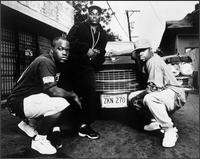 With ten years in the game and five albums to their credit, veteran Chicago rappers AK, Belo and Nard have done more than lived up to their namesake
Do or Die
. As one of the first hardcore reality rap group to emerge from the Windy City's thriving rap scene Do or Die helped to define Chicago street rap as we know it. Although the world would come to know the three pimps swaggering MCs for "Po Pimpin'" it was actually another song called "No Love" that helped to define their rapid fire lyric spit over smoothed-out laid back tracks.
"Everybody outside of the city knows us for "Po Pimpin'" but our first single locally was a song called "No Love." That was the song that gave our city's hip hop its definition. It helped to let people know what Chicago was really about. It helped mold Chicago rap into what you hear now."
While the underground single "No Love" gave Chicago rap its sound it wasn't until they dropped their critically acclaimed platinum-selling debut album "
Picture This
" that the world begins to take notice. "Picture This" yielded the smash hit single "Po Pimpin'," which went gold in a matter of weeks. In addition to being a gold selling single and a major aesthetic influence on subsequent hip hop groups out of Chicago, "Po Pimpin' also helped revitalized the career one of Chi-Town's old school MCs named Tongue Twister (AKA
Twista
) and placed him back into the hip hop spotlight.
Born and raised on the mean streets of Chicago's notorious Westside Nard, AK and Belo were exposed to the City's mean and ugly underbelly at an early age. According to the three there was literally nothing that they didn't either see or do while trying to survive in the streets. "The part of the Westside that we grew up on was fascinating," recalls AK. "It was grimy yet at the same time it was a fashion show. It was all fashion/grimy, drug infested –whatever you wanna call it that's what it was. We saw it from back to front….either we seen it or we did it."
Despite the fact the three childhood friends were exposed to some of socio-economic ills of society they soon found an outlet through rap music. By the early 90's the fellows were listening to rap music like Scarface, The Geto Boys and NWA. They were also watching all of the major moguls of hip hop make their moves up the corporate ladder to success and they decided that they wanted in on the action. So the three decided to form a group and call themselves Do or Die. Soon they were doing talent shows and local gigs around the city. Their first underground single, "No Love," released in 1989, set the city on fire and soon they were opening up for high powered national act that came to the City. Seven years later they dropped "Po Pimpin" and their lives and careers would change forever. The song had created such a tremendous buzz around the country that it led Rap-a-Lot to ink a deal with the Chi-Town trio.
"We were dealing with Rap-a-Lot way before that song came to the forefront," says AK. "We were dealing with them in like 91. We had some back and forth conversations. We did that twice and it would always be wear we're looking for something else. We weren't tripping we were just steady hustling. We was young in the game and we weren't taking no for an answer. So things came around and the song popped bam! They rushed to Chicago, man we gotta get these guys."
In 1996 Rap-a-Lot release Do or Die debut album "Picture This" and the record went platinum. Two years later the trio dropped their sophomore LP "
Headz or Tailz
"and the album went gold in three weeks. The year 2000 was ushered in with Do or Die's third album Victory followed by the "
Back 2 the Game
" album in 2002 and "
Pimpin' Ain't Dead
" in 2004. After the Pimpin' Ain't Dead Do or Die released an independent album called Die Hard under the moniker D.O.D. Although the album did well it still failed to reach the kind of numbers that they achieved with Rap-a-Lot. With their latest LP "
Get That Paper
", Do or Die returned to the label that jump-started their career to gold and platinum success.
Produced primarily by Do or Die long time producer the Legendary Traxter, "Get That Paper" harks back to the vintage formula that made Do or Die a household name in hip hop circles. One listen to songs like the pimped out tracks "36-24-36," "Grown Folkz Biz," and "Hey Ma" featuring
Bun B
and you're instantly transformed into a die hard Do or Die fan. But don't think that "Get That Paper" is all style and no substance. True to their creed of staying loyal to the streets and hood around the world Do or Die drops serious street knowledge on joints like "On My Own" a powerful song that examines why so many poor people are trapped into illegal hustling. It is songs like these and others that make "Get That Paper" a compelling album for fans both new and old.
"Get That Paper" hits stores March 28.