Chicago 5-Piece Office Announces Fall Tour With Earlimart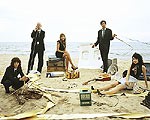 Scratchie/New Line Records are excited to announce
Office
's first national tour, in support of their label debut,
A Night At The Ritz
, due out September 25th. The 19-date tour with
Earlimart
kicks off September 27th at Portland's Doug Fir Lounge and ends October 23rd at the Casbah in San Diego. In addition to these tour dates, Office will make special visits this August to New York and Los Angeles, to preview songs off
A Night At The Ritz
.
Though their album is still a few months away from its street date, Office has already been building an early buzz for their insatiably catchy indie pop and attractive boy-girl harmonies. The five-piece began the year as an URB Magazine "Next 100" band, with URB raving that, "Their confident blend of pop meets sweet sensibility partners up nicely in some seriously smart songs." NPR gave the band a "Song of the Day" feature, writing, "The white-collar world has rarely sounded so enticing." In early July, Office caught the ears of Idolator.com, which praised their "ultra-hooky" music in a "Stuck on Repeat" spotlight, and this Fall, the band looks forward to such honors as a Paste Magazine "4 To Watch" feature and a SPIN "Breaking Out" feature.
At home in Chicago, Office is certainly no newcomer. Since making their way onto the local airwaves and stages in 2005, the band has gained a loyal fanbase, helping them sell out a month-long residency at Schubas (as well as the majority of their local shows since then), and giving them a slot on the Q101 Stage at the 2006 Lollapalooza. Local press has been more than supportive, featuring the band in the papers, magazines and blogs since their early days on the scene. Last year, Jim DeRogatis highlighted the band for the Chicago Sun-Times, writing that,"[Office's] music is fueled by the sunny, optimistic daydreaming of the temp worker who wishes he or she was anywhere else. It should be pumped over the Muzak systems of every company in the Loop."
Office is also working its way onto the airwaves this Summer, with their first single, "The Ritz," launching up to Number Four on the specialty charts after just two weeks, while
A Night At The Ritz
is making its way onto the College Charts. Meanwhile, last weekend, the band made their first music video. Keep an ear and an eye out for the band in the following weeks!
-
Listen to 'The Ritz'
OFFICE TOUR DATES:
August 17: Brooklyn, NY: Studio B
August 18: New York, NY: Mercury Lounge
August 25: Chicago, IL: Double Door
August 28: Los Angeles, CA: Cinespace
August 30: Los Angeles, CA: Filter's Revenge of the Sunset Strip at the Roxy
With Earlimart:
September 27: Portland, OR: Doug Fir Lounge
September 29: Vancouver, BC: Pit Pub
October 2: Milwaukee, WI: TBC
October 4: Cleveland, OH: Grog Shop
October 5: Toronto, ON: El Mocambo
October 6: Montreal, QC: La Sala Rosa
October 7: Boston, MA: Harper's Ferry
October 11: Philadelphia, PA: First Unitarian
October 12: Baltimore, MD: Ottobar
October 13: Chapel Hill: Duke Coffeehouse
October 14: Atlanta, GA: The Earl
October 15: Birmingham, AL: Bottletree
October 16: Houston, TX: Minc
October 17: Austin, TX: The Mohawk
October 18: Dallas, TX: Loft Palladium
October 20: Denver, CO: Larimer Lounge
October 22: Phoenix, AZ: Paper Heart Venue
October 23: San Diego, CA: The Casbah