Chevy Chase Blasts 'Community' Creator With Profanity-Filled Voice Mail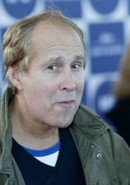 Funnyman Chevy Chase has taken aim at the creator of his TV comedy series Community, insisting the show is suffering due to his "bad writing".

The Spies Like Us star and Dan Harmon were said to be locked in a bitter feud on and off the set ever since the comedy premiered in 2009, and now Chase has finally snapped - after the writer allegedly led the cast and crew in a 'f--- you' chant during a recent wrap party, at which the comedian's wife and daughter were present.

Now, a profanity-laden voicemail Chase left Harmon has been made public by TMZ.com.

The funnyman can be heard saying, "I don't get talked to like that by anybody, certainly not in front of my wife and daughter, you god damn a--hole, alcoholic, fat s---. You're gonna live to be about 57 if you're lucky, the way you eat. I have nothing to say to you except, you can suck my c---."

And the National Lampoon star didn't stop there - he accused Harmon of destroying the program with his poor writing skills.

He adds, "You didn't give us a script to begin with so nobody knew what the f--- was going on at any point during the week. You're god damn bad writing... is an abomination. And your writing is getting worse and worse."