Cheryl Cole Sues Tabloid Over False Romance Article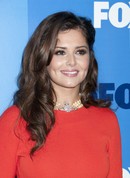 British pop star Cheryl Cole is suing the editors of a U.K. magazine for libel after they published false reports about her love life.

The Girls Aloud beauty found her private life under scrutiny last month when an expose about her alleged romance with former So Solid Crew rapper MC Harvey was splashed across the cover of Now.

In the article, Harvey claimed to have grown close to Cole in 2010 following her split from ex-husband, England soccer star Ashley Cole.

He said, "There was a relationship and an attraction to each other's aura... We've known each other for years. But then (after she broke up with Cole) we started confiding in each other. The conversations we had... it was like two people who'd gone through so much and both respected each other because of it."

Singer Cole immediately dismissed the relationship allegations, and Harvey later backtracked over his boasts, admitting they only communicated via email and never actually dated.

She is now taking legal action over the Now magazine report and a follow-up story editors also published, accusing reporters and bosses at the publication's parent company, IPC Media, of misusing private information about her in the articles.

She is also demanding IPC Media be banned from repeating the affair allegations.