Cheryl Cole Returning To U.S. 'X Factor'?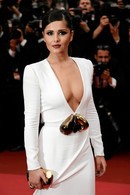 British pop star Cheryl Cole is set to return to the U.S. version of Simon Cowell's The X Factor, according to new reports.

The Girls Aloud beauty hit the headlines last month after it emerged she had been dropped from the Stateside launch of the talent show and replaced by Pussycat Dolls singer Nicole Scherzinger.

But according to Britain's News of the World, Cowell has persuaded network executives behind the Fox show to re-hire Cole and she is expected to take a place on the judging panel when auditions continue in New Jersey on Wednesday.

A source tells the tabloid, "This is the biggest surprise... Cheryl is back. Who could have possibly have predicted this - it appeared that Simon had dumped Cheryl for good? But behind the scenes Simon has been wooing Cheryl. And key executives at Fox all realized they had made a big mistake. They have been watching the tapes of her at the American auditions and realizing that she could be a huge star over there."

Scherzinger is said to be co-presenting the series with Welsh TV personality Steve Jones, while Antonio 'L.A.' Reid, Paula Abdul and Cowell are the other three judges.

The X Factor is due to debut in the U.S. later this year.