Cheryl Cole Footage Won't Be Cut From 'The X Factor'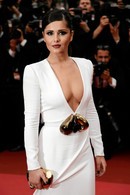 Simon Cowell has decided to address the drama surrounding Cheryl Cole's departure from The X Factor in the American show when it debuts later this year.

The British pop star, who sat on the judging panel of the U.K. version of the series, was picked to front the new U.S. sister show with Cowell, Paula Abdul and Antonio L.A. Reid, but was subsequently dropped and replaced by Nicole Scherzinger when she failed to impress TV bosses. It later emerged Cole had been given the chance to return to the U.K. show, but turned it down.

Cole left after filming two audition episodes in the U.S., and Cowell has now confirmed the footage will be included when The X Factor hits the small screen later in the year.

He tells Access Hollywood, "Yeah, you're gonna see her on the show."

Cowell also reveals Pussycat Dolls star Scherzinger, who was initially hired to host the show with Welsh star Steve Jones, was the only choice as a replacement, adding, "What else are we gonna do? She (Scherzinger) would've killed me if I'd a chosen anyone else. I literally would have been killed."