Chelsea Handler Hosting VMAs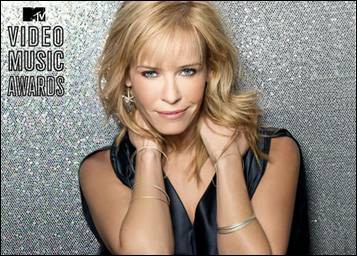 Yesterday, Chelsea Handler announced she will be hosting this years MTV VMA's on her E! show 'Chelsea Lately'. During the show she said, "Everyone knows that when you think of rap music and hip-hop, you think of 'Chelsea Lately,' and that's why I will be hosting."  In a seperate interview she said, "It's a relaxed show, so people aren't as uptight.  It's not the Grammys; it's not as serious as that. It's an MTV audience, so I'm sure some people won't know who I am. But by the end of the show, I won't know who anybody is, just like I don't now."
When I heard the announcement, I kind of scratched my head.  MTV has always been a culture of teens and twenty something's.  Am I living on another planet where Chelsea Handler has a connection to people half her age?  Are the same people that are watching Jersey Shore and The Hills, watching her late night talk show?  I don't have any solid numbers to back this up, but I'm thinking there's a disconnect. 
Apparantly I'm not the only one who was confused.  Stephen Friedman, general manager of MTV said Chelsea was, "an unexpected choice." "And yet," he said, "you look at her following from our audience, and it makes sense. They're passionate fans." He continued to say, "While she has a broad audience, there is a sweet spot that loves her. Her college fan base, for us, really made the point that she will appeal more broadly."
Huh.  So there's a large college fan base for her?  I guess they're betting only women watch the VMA's this year. 
Handler said that she will do a VMA's theme on her talk show the week leading up to her hosting.  No guests have been confirmed yet.
I really have no qualms with her hosting, really.  I just find it odd that MTV would think she's part of their target demographic.  Does she even know who the artists she'll be presenting are?
The 27th annual MTV Video Music Awards will be broadcast on September 12 from the Nokia Theater in Los Angeles. Kanye West, Drake, Nicki Minaj, Trey Songz and Ne-Yo are among the acts to perform.
What do you guys think?  Do you think Handler will be a good host?
via The Wrap