Cheers and Jeers in 'The Real Housewives Of New Jersey'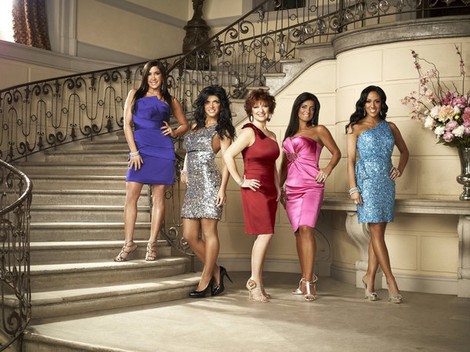 Tis the season to be catty? The Jersey housewives brought out the tinsel and the drama in last night's installment of the hit series.  It's Christmas time in Jersey and as always family and chaos is the name of the game. These Jersey ladies don't seem to do anything easily.  We find each of the wives finding their own ways to celebrate the festivities.  Jacqueline finds herself in the position of the " hostess with the mostess" as she organizes a family gathering for the Laurita's and the Manzo's and a reunion between the Guidice's and the Gorga's to promote peace on earth and goodwill towards men.  However, daughter Ashley and Jacqueline's dad warn her against getting involved in yet more drama does Danielle Staub ring a bell Ashley reminds her. Ashley is worried her mother's Plan will backfire on her.  Meanwhile else where in Franklin Lakes, the Manzo boys are back to help momma Caroline celebrate the season and decorate the house.
With their roommate Greg in tow, The Manzo boys get bossed around by mommy moving furniture, and getting all the decorations for a festive holiday. Chris just wants" patience and cheer", but mama Caroline warns Chris to tread lightly Lauren is resenting her brother's absence and closeness and feels left out. Lauren feels like her brother isn't including her in anything.  This is further magnified after the pair visits the boys at their pad in Hoboken.
At their apartment the tension between the Manzo boys and the pair could be cut with a knife. Albie and Chris want their space, Albie says that he needs "mom gps" when he lose something Caroline could find it for him.  Lauren is more concerned about the fact that she feels like she's losing her brothers to their roommate Greg and the singles life in Hoboken.  She tells her brothers she misses them and feels left out and begins balling. Albie seemingly hating seeing his sister in distress offers her a key to the apartment and an invitation to visit anytime announced or unannounced their family after all. However, Greg and Chris don't seem so pleased by Albie's gesture and tell her they would like it to be announced. Later, while helping Albie and Chris decorate their apartment she continues to sulk while trying to seem upbeat. Wanting to decorate their stockings and making them fun and festive but without any art supplies to speak of she improvises Italian style garnishing them with crushed red pepper flakes further promoting the "Guido" stereotype that has followed Jersey since " Jersey Shore".  All seems like it's going well, until roommate Greg suggests taking a trip and including Lauren.  Lauren feeling like his sentiment is not genuine tells him to stop making her feel involved just because she got upset and gets even more upset when she confronts the boys about having a party and not inviting her. Mama Caroline tries to keep the peace by telling her the boys need to have their own life and so does she, stop being unreasonable and grow up!
Melissa the newest Cat woman on the block knows what she wants for Christmas a singing career.  However " Amazing Grace how sweet the sound that saved a wench like me", isn't going to do maybe she has been getting lessons from Christina Aguilera. If anything she can gain fame on "Don't Forget The Lyrics". In an efforts to get into her good graces and maybe his wife's pants as well, Joe Gorga agrees to make Melissa's dreams come true by building her a recording studio in the house so he can keep a watchful or creepy eye on her.  When she goes downstairs he reiterates that fact saying he is going to put two way mirrors up so he knows exactly what she's up to at all times because he is obsessively jealous. She just tells him she wants a gold studio because she's going to make gold records. Guess we'll have to see how that turns out. The Guidice's future on the other hand doesn't look so golden. After the aftermath of their financial troubles it seems they haven't seen the end of a courtroom because an ex-partner is suing Joe Guidice for Fraud. While in court, Teresa creates another enemy in the form of Kim G's friend and Joe's ex-partner's lawyer's wife Monica, who first stirred up trouble at the " Posche" fashion show. After having it out in court Teresa is ready to relax with her man and her friends.
The Guidice's have a romantic picnic Joe creates for Teresa to celebrate Teresa and their marriage and Teresa asks Joe to keep things positive for the girls and asks if they are going to be a happy family? Time will tell, then they get ready to celebrate with some Christmas cheer with family and friends at Jacqueline's. Meanwhile, Jacqueline continues to involve herself in other people's drama when Kim G invites her over for some tea and gossip but first to have some sympathy with her tea and maybe an excuse for her bad behavior Kim G, informs Jacqueline she had a brain tumor.  She then goes onto inform Jacqueline about gossip regarding Teresa's trial. Jacqueline immediately tells Kim to quit it Teresa is her friend through thick and thin and she doesn't want to hear the gossip because it doesn't concern to Kim G's dismay.
While many of the housewives are ready to party, Kathy and Rich are focused on business, the restaurant business.  Kathy's desire to become the next great restaurateur and Rich's desire to get rich off his wife's hard work have them visit the Brownstone to get "advice" from Albert. In a move that seems somewhat contrived, isn't there anyone else in Jersey? Albert takes their idea with a grain of salt and laughs in their face as they think it will make their family closer and be able to spend more time together. Albert says it's quite the opposite he had to make a lot of sacrifices to gain the success he has and sacrificing family time was one of them.  Albert says it was only after 9/11 and going to a friend's funeral where he saw tons of pictures of him at the Brownstone did he feel validated by his sacrifice. Kathy and Rich have second thoughts and decide to go slow and steady starting with catering.
Finally, after much preparation and anticipation it's time for Jacqueline's holiday party.  Teresa is looking forward to having a few drinks after the stress of court and confides in Jacqueline about her tongue lashing at lawyer Monica, while Joe tells the guys that his wife is just nuts, saying her he had to pull away it seems yet again from what could have been another altercation. Soon after, The Gorga's arrive and Melissa is quick to point out to Jacqueline she is disappointed Kathy wasn't invited.  Lauren and the others feel the tension and competition between Melissa and Teresa and say it's all about who can get Joe Gorga's attention. After everyone has some wine and settles in the fun begins. Caroline seems to find Melissa and Joe entertaining maybe even more so after Melissa mistakenly admits her husband will do anything on a dare more like anything drunk and does. Joe Gorga entertains the crowd, with facial expressions crossing dressing and interpretive dance when he changes into Jacqueline's sequined jumpsuit and say all is ok as long as the Gorga " table flip" doesn't make an appearance.  Melissa tries to bond with Teresa's family and friends by saying she is so close with her sisters and doesn't know what she would do without them and says Teresa can be her sister too, she goes on to try to horn in on Teresa's friends rather than making her own when she invites them all to the Gorga's holiday party the following week.  Teresa says she doesn't mind sharing her friends because she has a lot of them and knows who they are.
Next week it seems like the Gorga's might have some eye gouging on their hands when Teresa faces her new nemesis Monica. Stay Tuned!