Check Out Victoria Beckham's $128,000 Special Edition Range Rover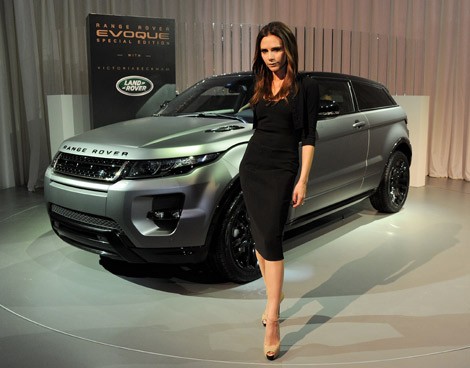 On Sunday, Land Rover unveiled the Range Rover Evoque Victoria Beckham Special Edition in Beijing, China. The British fashion designer teamed up with the Land Rover design team for 18 months to create her Special Edition vehicle.
The Evoque features gold accents on the grille and glossy black alloy wheels. The leather seats are vintage inspired. Rose gold-plated accents, mohair, black lacquer and textured aluminum are prominent inside the vehicle.
Beckham added a personal touch with a hand-sewn leather wallet for the owner's manuel, which she signed.
The Evoque costs 80,000 pounds or the equivalent of $128,000. Only 200 will be produced.
In November, Victoria, 38, landed the Designer Brand award at the British Fashion Awards. The former Spice Girl gave birth to her fourth child in July and is married to soccer star David Beckham. Is there anything this woman can't do?
See more photos of Victoria...