Check Out Varsity Fanclub's Pool Party

It is a widely accepted tenet in pop music that every generation needs its own young stars to scream for. So is it really surprising that a new group of fresh-faced young men have begun to make a footprint on the pop landscape? Even old-timers
New Kids on the Block
have reunited more than a decade after
'N Sync
and
Backstreet Boys
ruled the charts. Clearly the members of NKOTB recognized that few people (even those of us old enough to own "Hangin' Tough" on vinyl), can resist the simple pleasure of five talented, upbeat guys singing and dancing in unison. It's been true since the
Jackson 5
stormed the charts in 1969 and it is still true today.
Now
Varsity Fanclub
, a new group of exciting young male singers and dancers from across the country, are carrying on that legacy by bringing stellar multi-part harmonies and electrifying urban dance moves to the scene. They've already captured a place alongside such established teen stars as
Miley Cyrus
and the
Jonas Brothers
on AOL Music's Kids Pop channel, as well as on Radio Disney's playlist with their debut single "Future Love." Released digitally in June, "Future Love," became the No. 5 most-requested song on the station within three weeks. In addition, the three tracks posted on the group's official
MySpace
page - "Future Love, "Zero," and "Complicated Girl" - have already racked up nearly six million collective plays.
"Pool Party" Webisode:


Even if you find yourself outside the natural demographic audience for Varsity Fanclub, just try to resist tapping your toes when listening to their self-titled debut album, which will be released by STONEHALL/Capitol Records. Varsity Fanclub is an irresistible collection of urban-influenced rhythmic groove and R&B-styled pop balladry crafted by such leading songwriters and producers as
Ryan Tedder
(
OneRepublic
,
Leona Lewis
), Evan Bogart (
Rihanna
), and
Diane Warren
(
Whitney Houston
,
Celine Dion
). Tedder and Bogart co-wrote the melodic and unabashedly romantic "Future Love," while master composer Warren contributed the heartbreaking ballad "What I Really Want to Say." Hot newcomer Red One (
Akon
,
Shakira
,
Michael Jackson
) penned the pounding techno throwdown "Zero."
Other album highlights include another Tedder song, the hard-driving "Lost Then Found," and the club-banger "Looking For Love," co-written by the group's own Drew Ryan Scott with in-house producer Phoenix Stone. "I Can," "When You Were Mine," and "Ghost" recall the mainstream ballad smashes of
R. Kelly
,
Brandy
, and
Aaliyah
, while "Maybe This Is Love," "Complicated Girl," and "We Will" showcase the group's creamy harmonies amid a range of hip-hop, electronic, and near-arena rock up-tempo settings. "The album is a mixture of R&B and hip-hop, but also pop and rock," says Jayk Purdy, adding: "It's about great beats and great melodies."
"The cool thing about us is that we're all influenced by different artists," says Thomas Fiss. Indeed the five members "all bring something unique," says Bobby Edner. "That's what makes us special when it comes to groups like ours," David Lei Brandt adds. "All five of us contribute to the final product."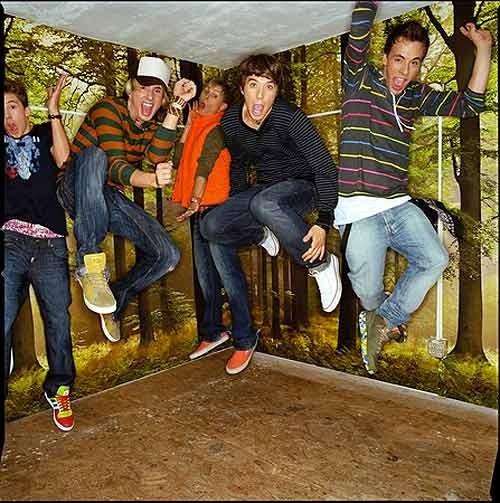 The best-known member of the group is Bobby, a native of Downey, CA, who has been a professional actor since the age of 10. He has appeared in such television shows as
ER
,
7th Heaven
,
Charmed
, and
Veronica Mars
, and starred in the film
Spykids 3-D: Game Over
. He also wrote and performed the end-title song, "Heartdrive," on the movie's soundtrack. Drew Ryan Scott, from Lafayette, LA, is the group's main songwriter, having co-written the tracks "Ghost," "Looking for Love," and "Complicated Girl" on VFC's debut. The son of an
Elvis
impersonator, Drew is also a fan of the Beach Boys "for their amazing harmonies." Fun-loving Jayk Purdy hails from Las Vegas, and is the group's resident prankster. The son of a professional singer, Jayk counts
Prince
and R&B singer
Craig David
among his favorite artists. Laid-back surfer and guitarist Thomas Fiss grew up in San Diego, CA, where he began playing open mic nights at the age of 16. Thomas also appeared on Broadway in The Full Monty at age 13. And finally, David Lei Brandt, born in Endsville, IN, is a dancer and choreographer who has taught around the country. The son of a Broadway stage director and professional singer, David's idol is Michael Jackson.
The group's members were discovered at auditions held by production company Stonehall Entertainment and survived a vetting process much tougher than televised bootcamps American Idol and So You Think You Can Dance. The result is five triple-threats as vocalists, dancers, and actors, each one of them groomed to dazzle in the studio, on stage, and in every TV or film endeavor. Varsity Fanclub has already guest starred on the ABC Family Channel's new series
The Middleman
, performing their song "Bad Habit." They have also made select live appearances around the country as they prepare for their debut album to drop.
"That's the number one thing for us," Jayk says, "when we step onstage, we don't want it to come off as just another performance. We want to put on a show for each and every member of the audience. We're not just going through the motions. We're going to entertain you."
More Varsity Fanclub:
-
Official Site
-
MySpace Page