Check Out 'Tinker Tailor Soldier Spy' On Blu-ray, DVD & On Demand March 20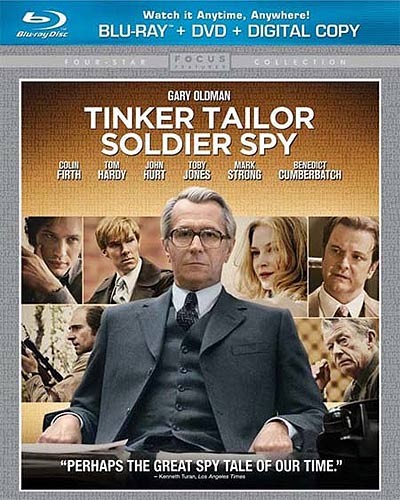 Director Tomas Alfredson takes the helm for an adaptation of John Le Carre's novel "Tinker Tailor Soldier Spy" about an ex-British agent who emerges from retirement to expose a mole in MI6.

England, 1973: British Secret Intelligence Service (SIS) head Control (John Hurt) and his top-ranking lieutenant George Smiley (Gary Oldman) are both forced into retirement after a mission involving respected secret agent Jim Prideaux (Mark Strong) turns unexpectedly deadly. As the Cold War continues to escalate, suspicions of a Soviet double agent begin to grow within SIS.

Subsequently summoned by Undersecretary Oliver Lacon (Simon McBurney), Smiley is secretly reemployed by the SIS in order to root out the double agent suspected of sharing top-secret British intelligence with the Soviets. Meanwhile, as Smiley and his new partner Peter Guillam (Benedict Cumberbatch) begin systematically examining all of the official missions and records involving MI6, the veteran spy can't help but recall an encounter he once had with Karla, a dangerous Russian operative, years prior.

At first, uncovering the identity of the infiltrator seems nearly impossible. Smiley and Guillam get a big break, however, when undercover agent Ricki Tarr (Tom Hardy) reveals that he has fallen for a mysterious woman in Turkey named Irina (Svetlana Khodchenkova), who may have a crucial lead. Later, upon learning that Control had comprised a list of five possible suspects, code-named Tinker (Toby Jones), Tailor (Colin Firth), Soldier (Ciarán Hinds), Poor Man (David Dencik), and Beggar Man -- none other than Smiley himself -- the investigation begins to heat up again.