Check Out 'Thor' On DVD & Blu-ray Sept. 13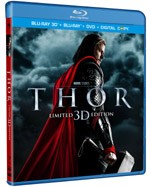 Director Kenneth Branagh and "I Am Legend" scribe Mark Protosevich bring Marvel Comics strongman Thor (played by Chris Hemsworth) to the big screen in a big-budget adventure that chronicles the mystical roots of the Asgardian god.
At the center of the story is The Mighty Thor, a powerful but arrogant warrior whose reckless actions reignite an ancient war. Thor is cast down to Earth and forced to live among humans as punishment. Once here, Thor learns what it takes to be a true hero when the most dangerous villain of his world sends the darkest forces of Asgard to invade Earth.
Natalie_Portman, Anthony_Hopkins, Jaimie_Alexander, and Colm_Feore co-star, with Tom_Hiddleston playing the role of Thor's villainous brother, Loki.