Check Out 'This Means War,' Now On DVD, Blu-ray & Digital Download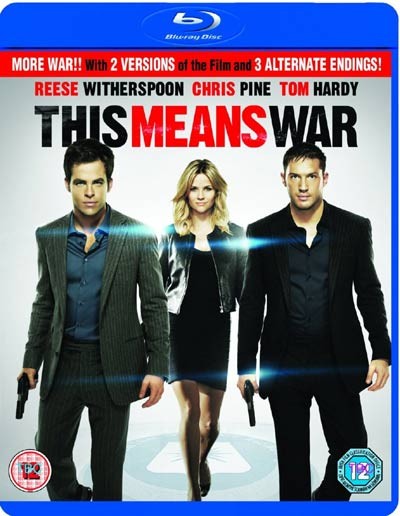 In "This Means War," two top CIA spies (Chris Pine and Tom Hardy) find their enduring friendship put to the ultimate test when they engage in an all-out war to win the affections of a beautiful woman (Reese Witherspoon).

Chelsea Handler and Til Schweiger co-star in a comedy co-written by Simon Kinberg and Timothy Dowling and directed by McG.
Witherspoon admitted she accidentally shot her co-star Hardy in the crotch with a paintball during the making of the movie and couldn't stop laughing.
 
She said, "I burst out laughing in the middle of the scene... It happens to me all the time and it's terrible... My husband will fall down and I just start dying laughing because it's so ridiculous and absurd. Somebody told me their dog died the other day (and) I had to stifle myself."
Chelsea Handler's bawdy jokes were cut from the movie in a bid to land the film a PG-13 rating. Officials at the Motion Picture Association ratings board reconsidered the R rating after Fox bosses agreed to cut out Handler's risque gags.