Check Out 'This Is 40' On DVD, Blu-ray & More March 22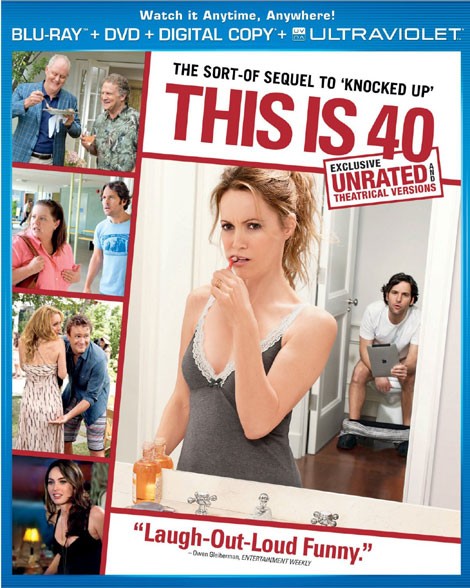 "This Is 40" centers on Pete (Paul Rudd) and Debbie (Leslie Mann), who are approaching a milestone meltdown.
After years of marriage, Pete lives in a house of all females: wife Debbie and their two daughters, 8-year-old Charlotte and 13-year-old Sadie. As he struggles to keep his record label afloat, he and Debbie must figure out how to forgive, forget and enjoy the rest of their lives before they kill each other.
The Judd Apatow film, billed as a "sort-of sequel" to "Knocked Up," is an emotionally insightful and very funny film. It touches on issues everyone can relate to: sex, family, marriage, parents, kids, growing old, and life in general and does it with Apatow's brilliant spot-on dialogue.
"This Is 40" will be released on Blu-ray™ combo pack with unrated version, DVD, digital copy & UltraViolet™, on March 22, 2013.
-Blu-ray™ disc unleashes the power of your HDTV and is the best way to watch movies at home, featuring perfect hi-def picture and hi-def sound.

-DVD offers the flexibility and convenience of playing movies in more places, both at home and away.

-Digital Copy provides consumers with a choice of formats from a variety of partners, including options to watch on iPhone®, Android™, computers and more.

-UltraViolet™ is a revolutionary new way for consumers to collect their movies and TV shows in the cloud. UltraViolet™ lets consumers instantly stream and download to tablets, smartphones, computers and TVs. Now available in both the United States and Canada.