Check Out The Video For Tony Bennett And Lady Gaga's Duet, 'The Lady Is A Tramp'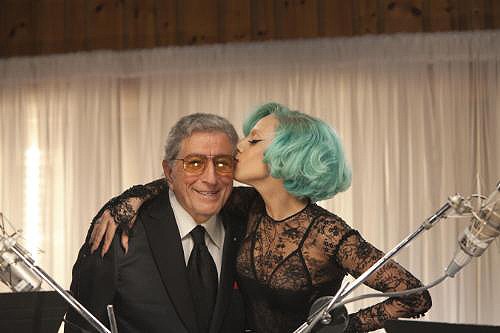 These days, Tony Bennett is telling everyone that he thinks the world of Lady Gaga, his duet partner on the 1930's classic "The Lady Is A Tramp". And now the wait for their highly-anticipated video is over! Watch the dynamic duo's classy new video below!
-"I think she's going to become as big as Elvis Presley."
-"She's absolutely brilliant with what she does. She's a very, very magnificent performer and she does know how to sing, and she does know how to play the piano. I see great things for her."
-"My favorite is that Lady Gaga. She's the biggest. I'll tell you, I never met anyone with more talent than that lady."

"The Lady Is A Tramp" is featured on Bennett's new album "Duets II", produced by Phil Ramone and Bennett's son, Dae Bennett. It features a celebrated roster of many of today's greatest artists--including Lady Gaga, Michael Buble, Mariah Carey, John Mayer, Carrie Underwood and Amy Winehouse -- performing with Tony, showcasing his catalog of greatest hits.
"Duets II" is a follow-up to Bennett's highly successful album "Tony Bennett Duets: An American Classic", which was released for the singer's 80th birthday, received three Grammy Awards and became his best-selling record to-date. A concentrated catalog campaign was also initiated resulting in "Duets'" return to the charts, with top five placement at Amazon and Barnes and Noble.

What are you waiting for? Download your own copy of "Tony Bennett: Duets II" from iTunes now!
Official Tracklisting

1. The Lady Is A Tramp with Lady Gaga
2. One For My Baby (And One More For The Road) with John Mayer
3. Body And Soul with Amy Winehouse
4. Don't Get Around Much Anymore with Michael Buble
5. Blue Velvet with k.d. lang
6. How Do You Keep The Music Playing with Aretha Franklin
7. The Girl I Love with Sheryl Crow
8. On The Sunny Side of the Street with Willie Nelson
9. Who Can I Turn To (When Nobody Needs Me) with Queen Latifah
10. Speak Low with Norah Jones
11. This Is All I Ask with Josh Groban
12. Watch What Happens with with Natalie Cole
13. Stranger In Paradise with Andrea Bocelli
14. The Way You Look Tonight with Faith Hill
15. Yesterday I Heard The Rain with Alejandro Sanz
16. It Had To Be You with Carrie Underwood
17. When Do The Bells Ring For Me with with Mariah Carey


Connect With Tony Bennett: Official Site | Facebook | Twitter