Check Out 'The Terminator Anthology' - A Collection Of All Four Films On Blu-ray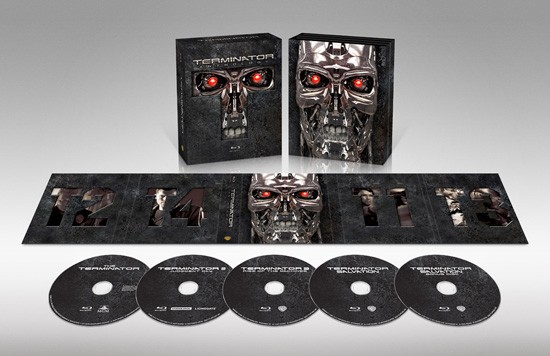 Fans of "The Terminator" can now get all four films on blu-ray in the new "The Terminator Anthology," available exclusively at Best Buy.
Start with James Cameron's 1984 film, "The Terminator," starring Arnold Schwarzenegger as a well-armed, virtually indestructable cyborg who has been programmed to eliminate Sarah Connor, who is destined to bare a son that will lead the human resistance movement.
Follow up with "Terminator 2: Judgement Day" in which Schwarzenegger's T-800 changes sides and works to protect Sarah and John from the threat of the T-1000 (played by Robert Patrick).
"Terminator 3: Rise of the Machines" features a 20-something John with a female terminator on his tale. And finally, in "Terminator Salvation" Christian Bale plays John Connor, trying to survive following a nuclear holocaust.
Special features include: The Terminator: A Retrospective "Other Voices" Documentary with James Cameron interviews Deleted Scenes with James Cameron All 3 version of T2 in 1080p THX - Theatrical, Extended and Special Editions T2 Audio commentary with James Cameron and writer William Wisher T2 Cast & Crew audio commentary Deleted Scenes/ Outtakes Over 8 hours of interactive special features: behind-the-scenes video and multimedia galleries, storyboard-script mode, quizzes and games Terminator: Rise of the Machines 3 Audio Commentaries Terminator Salvation mythology timelines Terminator Salvation "Re-Forging the Future" documentary.

Available Only at Best Buy: http://bit.ly/TerminatorAnthology