Check Out The 'Singin' in the Rain' 60th Anniversary Ultimate Collector's Edition, Out Now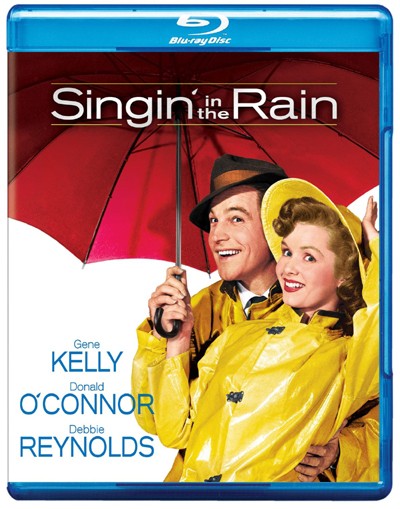 It's Hollywood, 1927, and the silent-film romantic team of Don Lockwood (Gene Kelly) and Lina Lamont (Jean Hagen) is the toast of Tinseltown. While Lockwood and Lamont personify smoldering passions onscreen, in real life the down-to-earth Lockwood can't stand the egotistical, brainless Lina. He prefers the company of aspiring actress Kathy Selden (Debbie Reynolds), whom he met while escaping his screaming fans.

Watching these intrigues from the sidelines is Cosmo Brown (Donald O'Connor), Don's best pal and on-set pianist. Cosmo is promoted to musical director of Monumental Pictures by studio head R.F. Simpson (Millard Mitchell) when the talking-picture revolution commences. That's all right for Cosmo, but how will talkies affect the upcoming Lockwood-Lamont vehicle "The Dueling Cavalier"? Don, an accomplished song-and-dance man, should have no trouble adapting to the microphone.

Lina, however, is another matter; put as charitably as possible, she has a voice that sounds like fingernails on a blackboard. The disastrous preview of the team's first talkie has the audience howling with derisive laughter.

On the strength of the plot alone, concocted by the matchless writing team of Betty Comden and Adolph Green, "Singin' in the Rain" is a delight. But with the addition of MGM's catalog of Arthur Freed-Nacio Herb Brown songs - "You Were Meant for Me," "You Are My Lucky Star," "The Broadway Melody," and of course the title song - the film becomes one of the greatest Hollywood musicals ever made.

The three-disc blu-ray and DVD pack ends an 18-month moratorium. It also includes a brand new documentary, Singin' in the Rain: Raining on a New Generation, which features some notable figures including Matthew Morrison, Paula Abdul, Harry Shum Jr., Corbin Bleu and Adam Shankman.

The collector's edition also includes a 48-page hard cover book, reproductions of the original theatrical posters from the film's premiere, an umbrella, and more!