Check Out The Mini Series 'Hindenburg: The Last Flight' March 11 & 12 On ENCORE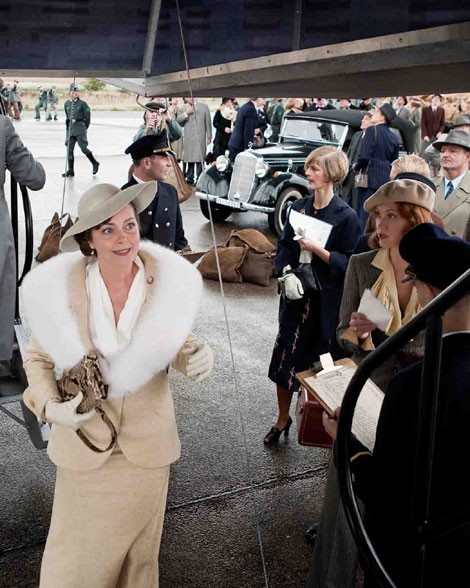 Based on the 1930s disaster that ended an era of airship aviation, 'Hindenburg: The Last Flight' premieres Monday, March 11 and Tuesday, March 12 at 8 p.m. et/pt on ENCORE.

Day turns into night as the airship floats overhead. The year is 1937 and the Hindenburg is the World's largest airship. The World believes that the Nazis have mastered safe hydrogen flight, but Merten Kröger, the charming and passionate engineer who helped design the floating leviathan, knows that just one spark could engulf the Hindenburg in flames.

Helium - a much safer fuel - should have been used, however, America has placed a military embargo on the sale of helium to Germany. The unscrupulous oil industry mogul, Edward van Zandt is determined to lift the embargo by using any means necessary. His plan backfires when his wife Helen and daughter Jennifer unexpectedly board the Hindenburg.

Fortunately, Merten catches wind of the conspiracy and sneaks aboard the aircraft, attempting to save his ship and its passengers. While aboard, romantic sparks fly between Jennifer and Merten, despite the vast differences in their social classes. She begins to develop strong feelings for the young engineer, but when Merten becomes the lead suspect in a murder conspiracy, she must decide if she can truly trust her new love.

With time running out, it appears that nothing can save the Hindenburg. A bomb continues to tick. Festive crowds, photographers and reporters await the [WINDOWS-1252?]airship's arrival as it majestically floats toward Lakehurst, New Jersey. But one question hangs in the air: will the Hindenburg dock?

The two-part drama stars Golden Globe winner Stacy Keach, Emmy® Award winning and Golden Globe® nominated actress Greta Scacchi, Lauren Lee Smith and Maximilian Simonichek.

Filmed in Germany, "Hindenburg: The Last Flight" was written by Johannes W. Betz and is directed by Philipp Kadelbach. The miniseries is produced by Katrin Goetter, Sebastian Werninger, Sascha Schwingel, Jürgen Schuster, with cinematography provided by David Slama and production design from Benedikt Herforth.