Check Out The 'March Of The Penguins' Limited Edition Giftset

March of the Penguins
will be marching straight into the hearts of holiday shoppers when Warner Home Video releases a Limited Edition Giftset on DVD November 3. The giftset will include an all-new feature-length documentary, "On the Wings of Penguins," a plush African penguin toy and collectible postcards – a gift sure to delight.
March of the Penguins is narrated by Academy Award winner
Morgan Freeman
and chronicles the lives of the emperor penguins and their remarkable journey to find a mate and start a family. The film is an all-age, true-life adventure touched with humor, with breathtaking photography that puts you in the middle of the drama of devoted parent penguins who, in the face of fierce polar winters, take turns guarding their eggs and trekking to the ocean in search of food. They will risk starvation and attack by dangerous predators, under the harshest conditions on earth, all to find true love and guard their adorable chicks.
"March of the Penguins Limited Edition Giftset" features an all-new feature-length documentary, "On the Wings of a Penguin," a fascinating look at the lives and adventures of another breed of penguin: the African penguin. With the dedication of people devoted to their survival, this warm-weather species (also known as "jackass penguins") thrives and inspires the joy of living. From oil spills off the coast of Africa to the destruction of Hurricane Katrina, witness the fun-loving spirit of these penguins as they continue to overcome life's challenges. In the wild and at aquariums and zoos, the African penguins' quirky and endearing behavior delights fans all over the world.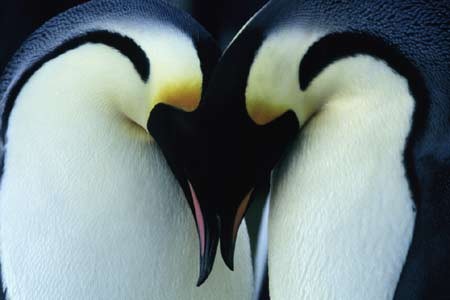 Image © PR Photos