Check Out The JFK 50th Commemorative Ultimate Collector's Edition On Blu-ray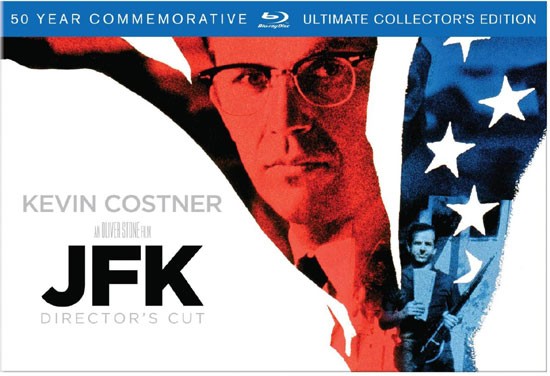 Warner Bros.' JFK 50th Commemorative Ultimate Collector's Edition on Blu-ray includes the Director's Cut with 17 additional minutes not seen in theaters and features three captivating documentaries – Oliver Stone's JFK: To the Brink, JFK Remembered: 50 Years Later and John F. Kennedy: Years of Lightning, Day of Drums.
Released in 1991, the film is about the investigations into the murder of President Kennedy. The central character is based on Jim Garrison, former District Attorney of New Orleans, who brought the only criminal investigation connected to the assassination to trial.
The film stars Kevin Costner as Jim Garrison, Sissy Spacek, Joe Pesci, Tommy Lee Jones and Gary Oldman.
The 50th anniversary collection includes: commentary by Director Oliver Stone, feature-length documentary "Beyond JFK: The Question of Conspiracy," deleted/extended scenes and an alternate ending.
Collectibles in the ultimate edition include a 32-Page Quotations Book, 44-Page Photo Book, Reproduction Campaign Poster, and character cards.
The feature film was nominated for eight Oscars, including Best Picture, Best Actor in a Supporting Role and Best Director. "JFK" wound up taking home two Academy Awards for Best Cinematography and Best Film Editing.