Check Out The Jazzy "Submarine Bus" From 'The Frank & Joe Show'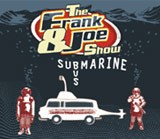 The Frank & Joe Show is comprised of virtuoso guitarist
Frank Vignola
, master percussionist
Joe Ascione
, and their merry band of New York City music makers. They have been steadily building a devout fan base in the city with admirers hanging on Vignola's every turn of phrase and Ascione's continually morphing rhythmic nuances. They bring audiences to their feet with infectious rhythms and an irresistible melting pot of musical dialects, seamlessly integrated as to create its own language.
There's gypsy swing crossed with breezy island grooves; the American high lonesome sound infused with modern jazz; classic pop standards filtered through acoustic roots improvisation, all the while propelled by delectable rhythms that would bring pause to 1970's Latin rock bands like Santana and War. The songbook stretches from Cole Porter to a comic book hero's theme song. The resounding musical energy generated by Frank & Joe is contagious, leaving no doubt as to why they're considered one of the most exciting acoustic groups on the scene today.
A world class guitar player, Frank Vignola was born and raised in Long Island, New York. Inspired by family, many of whom were musicians, he was playing guitar by the age of six. A professional musician by age 12, he began doubling on the banjo, for which he was crowned the Grand National Banjo Champion of Canada at 13 years old. Over a 20-year career, he's recorded as a leader for a variety of labels including Concord, Nagel-Heyer and David Grisman's Acoustic Disc, while enjoying steady work as a sideman with the likes of Les Paul, Hank Jones and Mark O'Connor.
A dazzling polyrhythmic percussionist, Joe Ascione was born and raised in Brooklyn, NY. He has toured the world and appeared on over 60 albums as a sideman, becoming one of the most in-demand drummers in the business. As a leader, he's recorded two critically acclaimed albums, Post No Bills and My Buddy (A Tribute To Buddy Rich). The combination of these two maestros is simply astounding.