Check Out 'The James Dean Ultimate Collector's Edition,' Now Available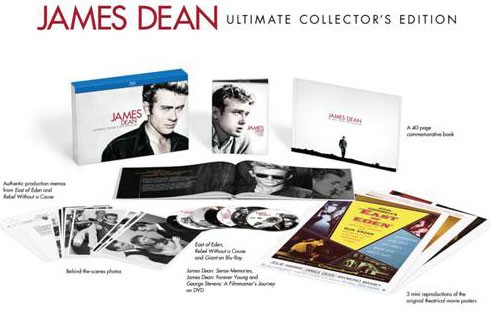 James Dean starred in Elia Kazan's film version of "East of Eden" in 1955. As Cal Trask, the troubled son of a wealthy businessman, he perfectly captured the neurosis and jealousies of the character.
While Dean did have a tendency toward over-emoting, the cumulative effect of his performance ultimate proves rewarding to viewers and was recognized by the Academy with a posthumous Oscar nomination as Best Actor.

One can only speculate on what heights (or what depths) Dean may have hit had he not been killed in a car accident on the night of September 30, 1955. Combining the sensitivity of a Montgomery Clift with the incoherent, explosive anger and sexuality of a Marlon Brando, James Dean came to epitomize the phrase "rebel without a cause." 
His hypnotic, angst-ridden turn in the 1955 film of that name (released less than a month after his death) struck a chord with teenagers the world over and solidified his reputation as the voice of his generation. Dean's early death forever froze him as that surly but sensitive teenager and made him the epitome of all that was "cool."

His third and last film, "Giant" (1956), was a sweeping generational epic and his strong turn as the lonely tortured Jett (which netted a second Best Actor Academy Award nomination) helped raise the material above its soap opera-ish qualities.

While critics were divided over Dean's work in his own time (Bosley Crowther in The New York Times called him a "mass of histrionic gingerbread" in "East of Eden" but praised his "stylized spookiness" in "Giant"), history has upheld his popularity and seen dozens upon dozens of emerging actors hailed as "the new James Dean."
In the "Ultimate Collector's Edition," all three films were restored from original camera negatives at Warner Bros.  The six-disc set includes three feature-length documentaries about the actor's life as well as a 48-page photo book with behind-the-scenes images and rare insight into each film.