Check Out 'The Dark Knight Rises' On Blu-ray, DVD, Digital Download & More Dec. 4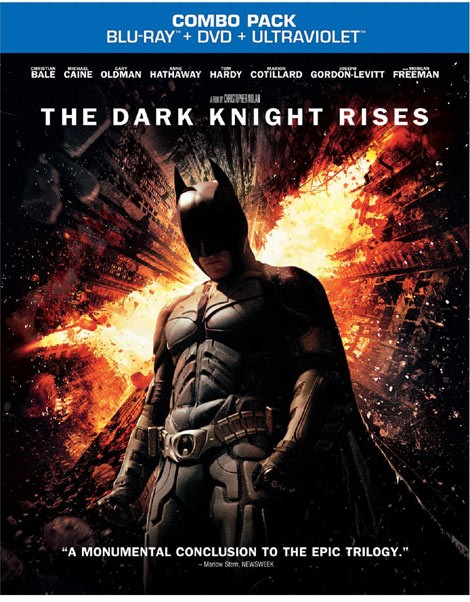 Christopher Nolan's Batman trilogy concludes with "The Dark Knight Rises," which finds Batman pitted against Bane, an unstoppable foe possessed of tremendous physical and intellectual strength.
Nearly a decade after taking the fall for Harvey Dent's death and disappearing into the darkness, a fugitive Batman (Christian Bale) watches from the shadows as the Dent Act keeps the streets of Gotham City free of crime.
Meanwhile, an elusive cat burglar seizes the chance to strike, and a masked anarchist plots a devastating series of attacks designed to lure Bruce Wayne out of the shadows. Determined not to abandon the people who he once risked his life to protect, The Dark Knight emerges from his self-imposed exile ready to fight.
But Bane (Tom Hardy) is ready, too, and once Batman is within his grasp, he will do everything in his power to break Gotham City's shadowy savior.
Michael Caine and Gary Oldman return in a sequel also starring Anne Hathaway, Marion Cotillard, and Joseph Gordon-Levitt.
Warner Bros. recently launched "The Dark Knight Rises FX app" loaded with freebies. With the updated app, Batman fans can...

-Shoot their own video and have the Camo Tumbler drive through it.
-Put themselves in the Camo Tumbler in a photo
-Put themselves in The Dark Knight Rises "RISE" poster
-Become Gotham City's most wanted by placing the mask from Batman, Bane or Catwoman onto their photo

Fans who purchase The Dark Knight Rises on Blu-ray Combo Pack through the app get exclusive content that syncs to the Blu-ray.

The app is free and available now from the App story.  The app is compatible with 4th generation iPod touch devices, iPhone 4, iPad2 and the New iPad.