Check Out 'The Captains Up Close With William Shatner,' Now On DVD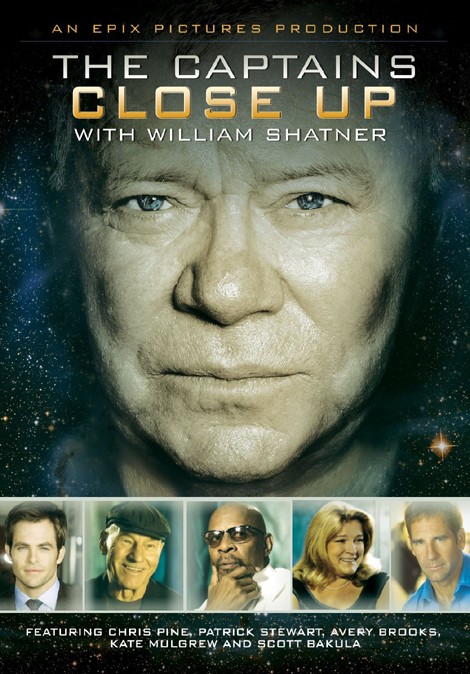 What was once nerdy is now cool, and in "The Captains Close Up With William Shatner" the original "Star Trek" captain travels the globe to chat with those who've also sat on the bridge in the iconic franchise.
The sci-fi series has become one of the most durable and beloved franchises of all time. At the center of each  incarnation is what has become a truly iconic character: The Captain.

"The Captains Close Up" is a five episode mini-series, as seen on Epix, that "boldly goes where no man has gone before," giving viewers an intimate look at the actors that have inhabited this role - all through the eyes of the man who played the first Captain more than 45 years ago: William Shatner.

Based on the multi-million dollar budget feature documentary The Captains, written and directed by Shatner, The Captains Close Up provides an even deeper behind-the-scenes look at the actors who have made the Star Trek an international phenomenon.
Each episode features William Shatner conducting an in-depth, one-on-one interview with one of his fellow Captains, and delves into the working challenges and personal rewards each actor garnered from his or her groundbreaking role at the Star Trek Starfleet helm.

Episodes:

-William Shatner (Captain James T. Kirk, "Star Trek: The Original Series," 7 Star Trek feature films) featuring Chris Pine (Captain James T. Kirk, J.J. Abrams's "Star Trek" and "Star Trek Into Darkness")
-Patrick Stewart (Captain Jean-Luc Picard, "Star Trek: The Next Generation," 4 Star Trek feature films)
-Avery Brooks (Captain Benjamin Sisko, "Star Trek: Deep Space Nine")
-Kate Mulgrew (Captain Kathryn Janeway, "Star Trek: Voyager")
-Scott Bakula (Captain Jonathan Archer, "Star Trek: Enterprise")